ApeCoin (APE) has experienced a notable slump throughout the second quarter of this year. As the digital currency landscape continues to evolve, investors and enthusiasts have been closely monitoring the token's performance, eagerly awaiting signs of a potential turnaround. 
With concerns mounting, many are left wondering: is there a silver lining ahead for ApeCoin, or is it destined to remain trapped in the grips of a prolonged downward trend?
Can ApeCoin Bulls Find Strength Amid The Downtrend?
In recent months, ApeCoin APE has experienced a significant decline, with its price plummeting by over 55% from its mid-April swing highs of approximately $4.5 to its current value of $2.17 at the time of writing, according to a new APE price report.
Although the cryptocurrency rallied by 6.4% in the past 24 hours, the 14-day chart reveals a substantial slump of 27.2%. Adding to the bearish sentiment, the trendline resistance has proven to be a formidable obstacle, hindering any potential upside movement.

Source: CoinMarketCap
Moreover, the Relative Strength Index (RSI) has been exhibiting lower highs since late January, indicating a notable decrease in buying pressure. This decline in demand is further corroborated by the decreasing On Balance Volume (OBV).
The convergence of these negative indicators has reinforced the control of sellers and raised the possibility of APE dropping below the $2.0 mark. In fact, there is speculation that the cryptocurrency could potentially reach $1.0, its initial opening price on the Binance exchange.
Keeping An Eye On Bitcoin
Despite the prevailing downtrend, there is a glimmer of hope for bullish investors as Bitcoin has now rebounded above the $27,000 threshold. At CoinMarketCap, BTC is trading at $28,792.51.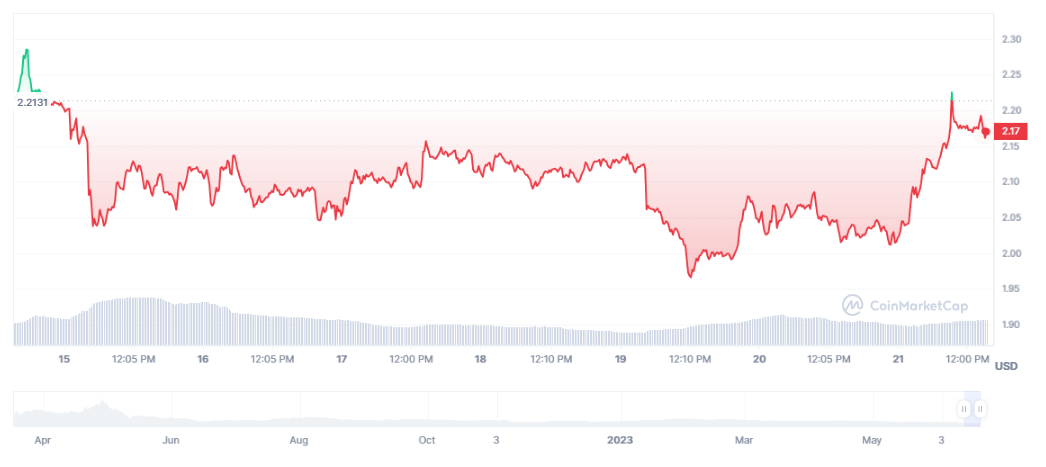 ApeCoin price movement in the last seven days. Source: CoinMarketCap
Bitcoin's price ascent can have an impact on APE's price trajectory based on recent data. In fact, it's been observed that as Bitcoin price climbs, so do the other crypto assets. 
But, the outcome remains uncertain, leaving many to wonder whether ApeCoin can find a ray of hope amidst the prevailing bearish sentiment.
Bitcoin showing its resilience at the $28K territory. Chart: TradingView.com
Meanwhile, throughout the month of May, APE witnessed an increase in its supply on exchanges, indicating a continued trend of token holders moving their assets to exchanges for the purpose of selling.
ApeCoin supply on exchanges and daily active addresses. Source: Santiment
This surge in supply has further solidified the control of sellers over APE, exacerbating the downward pressure on the cryptocurrency.
On the other hand, there has been a notable decline in the supply of APE outside of exchanges during the same period.
This decrease in supply indicates a diminishing interest in APE among investors who are choosing to hold onto their tokens rather than actively trading or selling them.
Featured image from Andrew Milligan/AP