4/4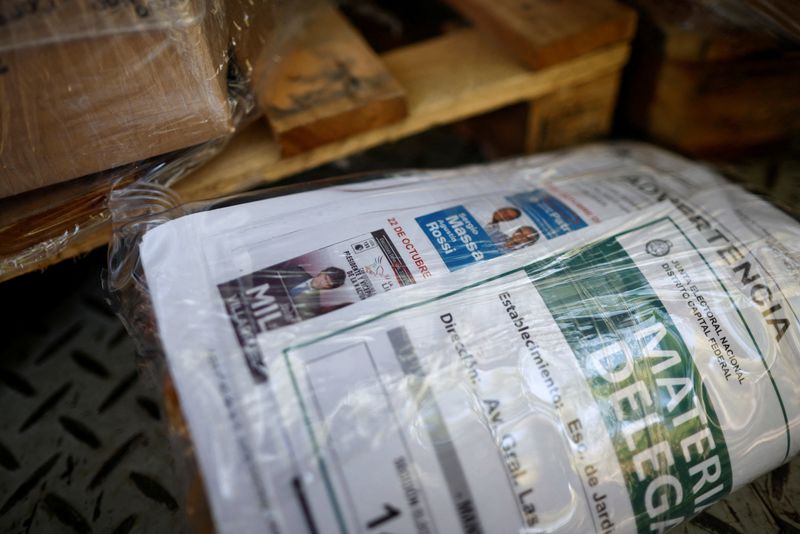 © Reuters. A view of ballot boxes and voting materials inside a truck, ahead of Argentina's runoff presidential election, at a school in Buenos Aires, Argentina November 18, 2023. REUTERS/Adriano Machado
By Nicolás Misculin and Walter Bianchi
BUENOS AIRES (Reuters) -Argentines headed to the polls on Sunday in a closely contested presidential runoff, with two starkly different visions for the country's future on offer and an electorate simmering with anger at triple-digit inflation and rising poverty.
The election pits Peronist Economy Minister Sergio Massa, at the helm for the country's worst economic crisis in two decades, against radical libertarian outsider Javier Milei, the slight favorite in pre-vote opinion polls.
Milei is pledging economic shock therapy, from shutting the central bank to ditching the peso and slashing spending, potentially painful reforms that have resonated with voters angry at the economic malaise, but which have sparked fears of austerity in others.
With many Argentines unconvinced by either candidate, some have characterized the election as a choice of the "lesser evil": fear of Milei's painful economic medicine or anger at Massa over the economic crisis. Many Argentines say they will not vote at all.
In the first-round vote in October, Massa won 36.7% of the votes compared with some 30% for Milei. The libertarian has since won public backing from third-place finisher Patricia Bullrich, though it is not certain all her votes will shift to him.
Whoever wins, it will shake up Argentina's political landscape, its economic roadmap, trade in grains, lithium and hydrocarbons, and its ties with China, the United States, Brazil and others.
"None of the candidates gives me certainty about the future," said Josefina Valente, a 63-year-old retiree as she voted in Buenos Aires on Sunday morning. "I come to vote out of obligation so that once and for all we have a change in the country."
The story of the race so far has been the rise of 53-year-old economist and former TV pundit Milei, a lightning rod for voter anger who has threatened to detonate the status quo and tear down what he calls a "caste" of the political elite.
Milei on Sunday decried a "campaign of fear" against him, but expressed confidence.
"Now we'll let the polls speak," Milei said after voting in the city of Buenos Aires. "Let's hope that tomorrow there will be more hope and an end to the decay."
"This is an extremely important election that defines our country's direction in the next four years," Massa told reporters after voting in the province of Buenos Aires.
The winner is set to take office on Dec. 10 and would replace outgoing center-left Peronist President Alberto Fernandez.
'I'M GOING FOR CHANGE'
Milei has a slight edge in opinion polls, but most show a tight and uncertain race. Massa, 51, an experienced political wheeler-dealer, has been clawing back votes with tax cuts and campaigns highlighting Milei's radical plans to slash state spending.
"Milei's policies scare me, and that's why I am voting for Massa, not out of conviction. As they saying goes, better the evil you know," teacher Susana Martínez, 42, said on Sunday.
Milei, who at rallies used to carry a chainsaw in a symbol of his planned cuts, favors privatizing state firms and making changes to health and education. He has in recent weeks shelved the chainsaw as he has sought to moderate his image and capture centrist voters.
His core supporters call him the only candidate capable of dethroning the Peronist government and ending years of crisis that has dogged South America's second-largest economy.
"You cannot vote for the current government under these conditions, and a blank vote will only favor it. Milei is the only viable option so that we do not end up in misery," said Santiago Neria, a 34-year-old accountant.
Whoever wins the presidency will have to deal with the empty coffers of the government and central bank, a creaking $44 billion debt program with the International Monetary Fund, inflation nearing 150% and a dizzying array of capital controls.
Voter anger at the crisis could well be the deciding factor, given Massa has directed the economy for more than a year.
"They both promise a better future but with opposite policies. Massa's had his chance and he didn't do anything so I'm going for a change," businessman Samuel Goinsten, 76, said.
Both would face a highly fragmented Congress, with no single bloc having a majority. The winner will need to get backing from other factions to push through legislation. Milei's coalition also does not have regional governors or mayors.
Voting started at 8 a.m. (1100 GMT) and polling stations will close at around 6 p.m. (2100 GMT), with the first official results expected a few hours later.