Published Aug 13, 2023 12:03AM ET Updated Aug 13, 2023 04:26PM ET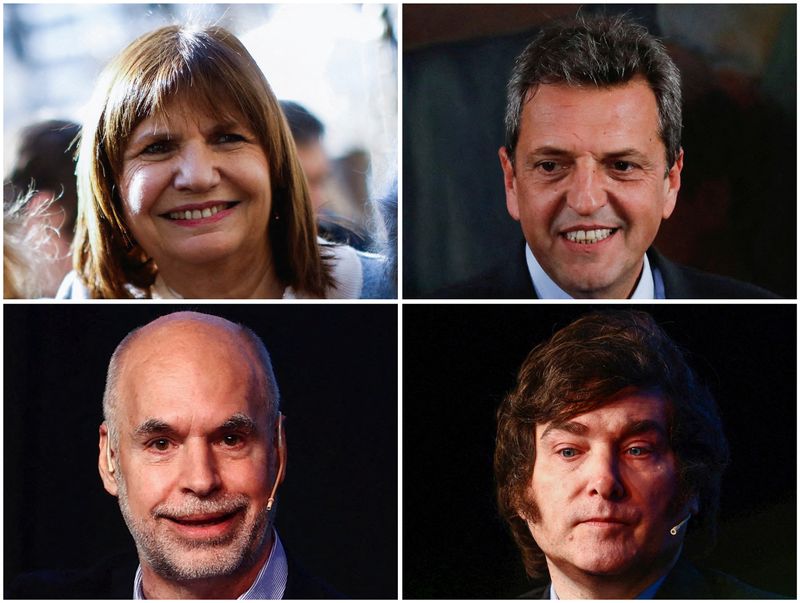 © Reuters. FILE PHOTO: A combination picture shows Argentina's presidential pre-candidates Sergio Massa, Patricia Bullrich, Horacio Rodriguez Larreta, and candidate Javier Milei, in Buenos Aires, Argentina, July 2023. REUTERS/Agustin Marcarian and Matias Baglietto/F
By Nicolás Misculin, Jorge Otaola and Horacio Soria
BUENOS AIRES (Reuters) -Argentines headed to the polls in primary elections on Sunday, with voters expected to punish the ruling center-left Peronist coalition for inflation that is scraping 116% and a cost-of-living crisis that has left four in 10 people in poverty.
The primaries are obligatory for most adults and each person gets one vote, making it in effect a giant dress rehearsal for the general election in October and giving a clear indication of who is the favorite to win the presidency.
That will be key for policy affecting Argentina's huge farm sector, one of the world's top exporters of soy, corn and beef, the peso currency and bonds, and ongoing talks over a wobbling $44 billion debt deal with the International Monetary Fund.
The economic crisis has left many Argentines disillusioned with the main political parties, the Peronist coalition and the conservative opposition Together for Change, and opened the door for a potential surprise win by a far-right libertarian.
"This is another chance we have to change things. Inflation is killing us and job uncertainty doesn't let you plan your life," said Adriana Alonso, a 42-year-old housewife, as she went to vote after polls opened at 8 a.m. (1100 GMT).
Voting centers will close at around 6 p.m. local time, with the first results expected about three hours later.
Others are planning a protest vote for fringe parties or none at all, a trend which could play against the more moderate presidential candidates in the race, including right-of-center Buenos Aires Mayor Horacio Larreta and Economy Minister Sergio Massa, who may be the Peronist coalition's biggest hope.
"I am thinking of leaving my vote blank," said Micaela Panzera, a 22-year-old employee of a food company in Buenos Aires. "No candidate really convinces me."
There were long and at times chaotic queues to vote on Sunday, with some people complaining about delays casting their ballots and glitches with the voting system.
HARD ELECTION TO PREDICT
The most important leadership race is in the Together for Change coalition, between Larreta and his more hard-line conservative rival, Patricia Bullrich, who is a former security minister. Both are pledging more austerity and freer markets.
An unpredictable factor is libertarian economist Javier Milei, who has been getting nearly one-fifth of the likely vote in opinion polls and winning over voters with a brash, unapologetic style. He wants to dollarize the economy and shut the central bank.
"A strong performance by the libertarian candidate would also constitute a surprise and could point to a contested three-candidate race in October," investment bank Goldman Sachs (NYSE:) said in a note.
Pollsters expect low turnout, despite the fine that is imposed on those who do not vote.
"Higher abstention should be expected, perhaps also more blank votes. We have seen warning signs of this in the provincial elections held up to now," said Carlos Fara, a political analyst.
"The hardest element to predict is Milei's performance, because he's a phenomenon outside the political norm."
Pollsters see the combined Together for Change opposition candidates just ahead of the Peronist bloc, with Milei pulling close to 20%. Many, however, admit it is a hard race to predict. In the 2019 primary the polls proved to be badly wrong.
Whoever wins in October, or more likely in a November runoff, will have big decisions to make on rebuilding depleted foreign reserves, boosting grains exports, reining in inflation and on how to unwind a thicket of currency controls.
Jorge Boloco, 58, a merchant, said Argentina need a "course into the future," but no party offered a clear way forward.
Maria Fernanda Medina, a 47-year-old teacher, said she had also lost some optimism about politicians truly bringing change after many years of revolving economic crises.
"I don't have much hope because in every election I feel a little disappointed," she said as she cast her ballot in Tigre, on the outskirts of Buenos Aires. "But hey, we can't lose all hope, right?"