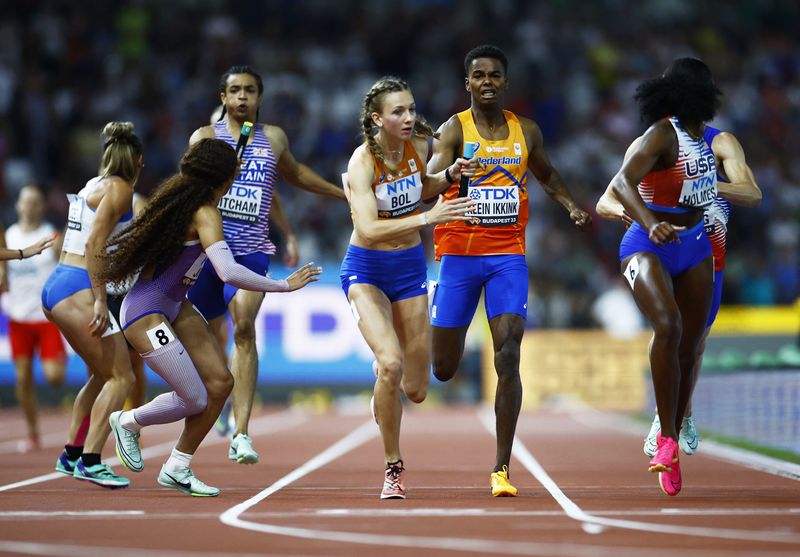 © Reuters. Athletics – World Athletics Championship – 4x400m Relay Mixed – National Athletics Centre, Budapest, Hungary – August 19, 2023 Alexis Holmes of the U.S. and Netherlands' Femke Bol and Isaya Klein Ikkink in action during the final REUTERS/Sarah Meyssonnier
By Mitch Phillips
BUDAPEST (Reuters) -The United States won a dramatic World Championship gold with a world record in the mixed 4×400 metres relay on Saturday as Femke Bol fell five metres from the line just as it looked as if she was going to bring the Netherlands home for gold.
The Dutch ran a brilliant race but U.S. anchor Alexis Holmes refused to let Bol escape and was within inches of her before Bol crashed to the track, hitting her head and dropping the baton. The winning time of 3:08.80 broke the Americans' own world record set in the first running of the event in 2019.
Britain took the silver in 3:11.06 and the Czech Republic bronze in 3:11.98 – both national records.
An event still finding its feet delivered an unforgettable finale for the impressive crowd on the opening night of action in Budapest.
Gabby Thomas had been expected to join the U.S. team after sitting out the morning heats but the 200 metre specialist was not included as Matthew Boling came in for Ryan Willie who ran in the morning heats.
The favourites started well but a brilliant second leg by Lieke Klaver pushed the Dutch, who took silver last year, into the lead.
By the time Bol got the baton for the last leg it looked a foregone conclusion as the 400 hurdles specialist and indoor 400m world record holder has been in stunning form in recent weeks.
Holmes, however, delivered a gutsy effort to stay in her wake and was inching alongside her with the outcome still in doubt when Bol collapsed.
Coming only a few metres further on from where compatriot Sifan Hassan had fallen while leading within sight of the 10,000 metres finishing line 20 minutes earlier, it was another devastating disappointment for the Netherlands.
"I don't know what happened, I cramped towards the finish line, I was pushing, pushing, pushing," Bol said.
"I was disappointed that my body did not have it in to finish the race strongly. I'm sorry for my team, I should have finished it off and it sucks big time."
For the U.S. the victory and world record were welcome validation of their one-lap strength in depth after they managed only bronze in the event in Tokyo and Eugene having won the first global running in the 2019 worlds.
"It is amazing," said Holmes. "It was definitely tough to run against Femke Bol. She is an amazing athlete but I believed I could run it down because I felt really strong and determined to win and I felt good."