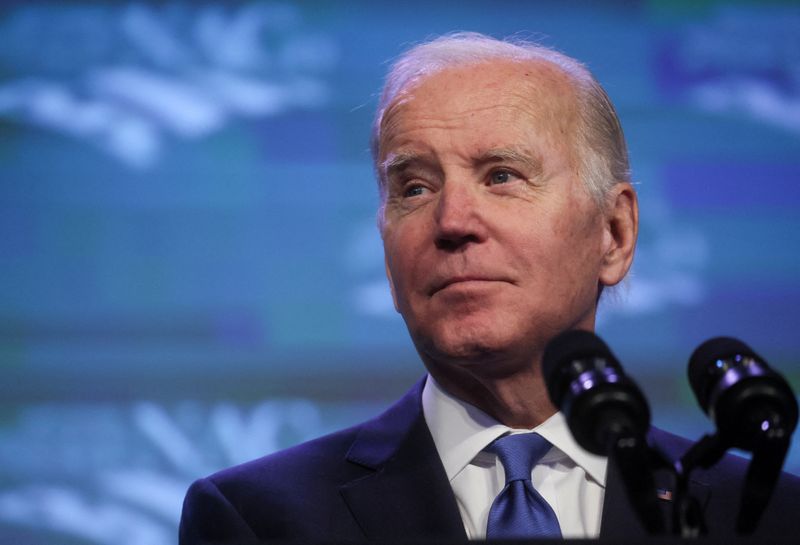 © Reuters. FILE PHOTO: U.S. President Joe Biden addresses the National Association of Counties (NACo) Legislative Conference in Washington, U.S., February 14, 2023. REUTERS/Leah Millis/File Photo
By Andrea Shalal
WASHINGTON (Reuters) – President Joe Biden, armed with a new team of economic advisers, will take aim on Wednesday at Republican plans to cut U.S. spending as his administration gears up for a huge fight to preserve the outlays he credits with fueling an American recovery.
At issue is Republicans' refusal to raise the statutory $31.4 trillion U.S. debt limit unless Biden agrees to spending cuts. The White House has said such measures will only be discussed after the debt ceiling is lifted.
With his own approval ratings now at 36% despite 53-year low unemployment and rising consumer sentiment, Biden will seek to flip the script and point the finger at a Republican agenda that he says will amount to "a massive giveaway to the super-rich, big corporations and Big Pharma," the White House said.
In a speech at a union hall in suburban Maryland, Biden will accuse Republicans, who now control the House of Representatives, of pushing him to agree to spending cuts, while their own plans would add $3 trillion to the debt.
By contrast, Biden says his administration's plans will cut U.S. debt by another $2 trillion on top of $1.7 trillion in reductions already made, while sticking to his promise not to raise taxes for anyone earning less than $400,000 a year.
"Let's be crystal clear about what's happening," he said in remarks prepared for the event. "If you add up all the proposals that my Republican friends in Congress have offered so far, they would add another $3 trillion to the debt over 10 years."
Since taking control of the House last month, Republicans have passed measures to reverse or pare back Biden-backed laws, including the Inflation Reduction Act, which includes green tax credits and reforms aimed at lowering prescription drug prices.
Republicans argue that federal spending is too high and will fuel inflation while raising the U.S. debt level.
Senate Democrats are preparing to fan out to their home states and tout Biden's economic wins so far, such as insulin price caps, energy-related tax credits and infrastructure grants. They also plan a separate news conference on Wednesday aimed at highlighting House Republicans' planned budget cuts.
National Economic Council Director Brian Deese told CNBC the White House faced a "complicated legislative environment" with Republicans controlling the House.
"I would hope that we could see some progress even as we are in a new era of divided government," he told CNBC, citing potential action to address housing supply and costs and to address anti-competitive issues in order to boost U.S. businesses.
The president on Tuesday chose new allies to help lead the fight, naming Federal Reserve Vice Chair Lael Brainard to replace Deese, and nominating Jared Bernstein to head the Council of Economic Advisers.
He also gave new authority to deputy National Economic Council director Bharat Ramamurti, a former adviser to Senator Elizabeth Warren and a vocal critic of oil and gas companies' windfall profits, and named Labor Department chief economist Joelle Gamble as one of Brainard's deputies.
Biden's speech to the International Brotherhood of Electrical Workers Local Union 26 in Lanham, Maryland, will build on his State of the Union address last week in which he assailed oil companies for making high profits and doubled down on pledges to rout "trickle-down" economics from policymaking.
He will tout his call to quadruple a 1% tax on corporate stock buybacks and enact a minimum tax on billionaires, in part to lower the deficit, but neither measure has much chance of passing the Republican-controlled House.
Republicans have discussed repealing the stock buyback tax entirely, which the White House says would add $74 billion to the federal debt.