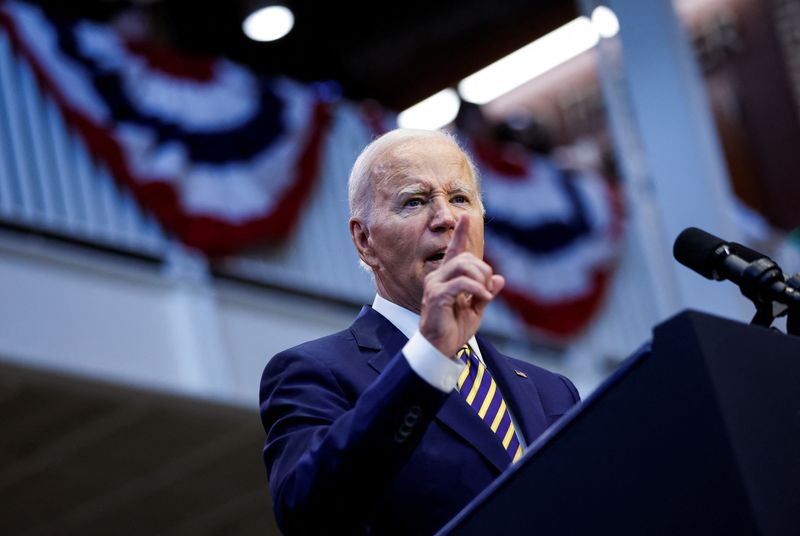 © Reuters. U.S. President Joe Biden delivers remarks on his economic agenda at Prince George's Community College in Largo, Maryland, U.S. September 14, 2023. REUTERS/Jonathan Ernst
By Andrea Shalal
LARGO, Maryland (Reuters) – President Joe Biden vowed on Thursday to get U.S. gasoline prices down, one day after a report showed consumer inflation surged by the most in 14 months due to higher energy costs.
KEY QUOTE
"I'm going to get those gas prices down again, I promise you," Biden told an audience in Largo, Maryland, during a speech on the economy.
THE TAKE
The comments come as Biden, a Democrat seeking reelection in 2024, faces voter frustration over the economy despite its continued growth during his four-year term in office as inflation hits consumer pocketbooks.
Consumer prices rose 3.7% over the last year, though the rate of inflation has slowed in recent months.
BY THE NUMBERS
U.S. gas prices average $3.85 per gallon of regular gasoline, up from $3.70 per gallon last year, according to the AAA motorist group.
CONTEXT
* Biden did not elaborate on steps he would take, but the U.S. Energy Department has talked to oil producers and refiners to ensure stable fuel supplies, a top Biden economic adviser said on Wednesday.
* Gasoline prices jumped 10.6% in August after climbing 0.2% in July, accounting for more than half the increase in the Consumer Price Index.
* Biden previously authorized large withdrawals from the United States' Strategic Petroleum Reserve to combat high prices, leaving it at its lowest level in decades. Tapping it again this year would be seen as a risky move.