The cryptocurrency market is currently growing in a variety of ways, but the Shiba Inu (SHIB) ecosystem's tokens are currently noticeably on a positive run. Bone ShibaSwap (BONE), one of the leading tokens in the meme coin ecosystem, is on a clear uptrend, rising as much as 5.6% in the previous day to $1.74. The coin has increased by more than 25% over the last week as a result of the ecosystem's overall buzz.
The price of Bone Shibaswap has made a significant recovery in recent months. After soaring to a high of $1.7410, the highest point since March, it exceeded several of the initially pessimistic expectations.
BONE price all in green in the weekend chart. TradingView.com
BONE Showing Solid Performance
While the price of Bitcoin and Ethereum has stabilized, the BONE cryptocurrency has increased by more than 130% since its June lows.
The anticipation stems from the belief that the upcoming August mainnet release of Shibarium will mark the beginning of a transformative era.
Ever since the launch timeline was disclosed earlier, members of the community have been attributing special significance to this event, particularly emphasizing the role of BONE.
BONEUSD trading at $1.74 on the weekly chart: TradingView.com
This enthusiasm is fueled by the potential impact of Shibarium's launch on the overall landscape and the specific importance of BONE within this context.
The idea of a crypto exchange is among the most crucial ones in the field of crypto. Because cryptocurrencies don't have an inherent worth, having a market where they may be purchased, sold, or traded aids in determining their price.
To address possible problems with conventional, centralized exchanges (CEXes), decentralized exchanges, or DEXes, were developed. People can trade any cryptocurrency they want for any cryptocurrency they want at a price determined by the market, rather than being restricted to what a centralized authority says can and cannot be listed.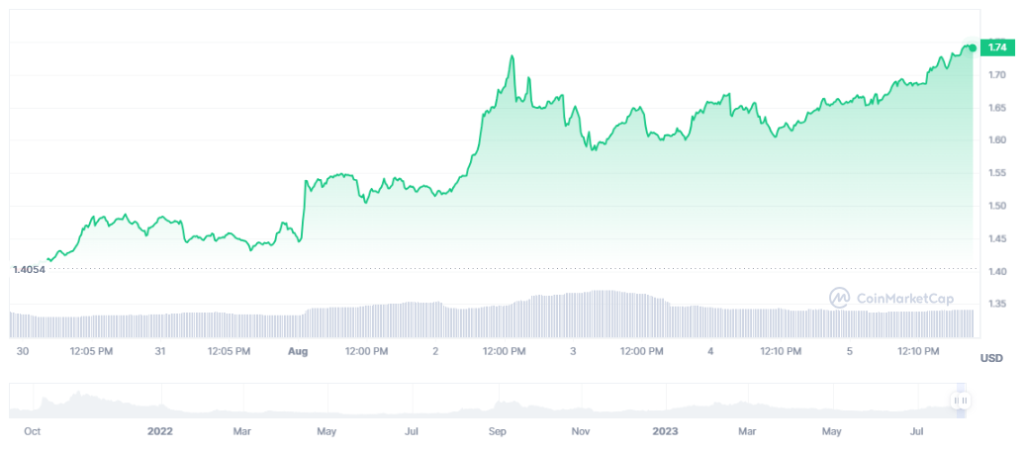 Source: CoinMarketCap
ShibaSwap is one of many decentralized exchanges available and is built on the Ethereum (ETH) network. The Bone ShibaSwap (BONE) crypto token serves as its backbone. It was established in 2021 by the team behind the Shiba Inu (SHIB) cryptocurrency.
Shibarium Launch Boosts Token's Price
The impending arrival of Shibarium is the main reason why Bone Shibaswap is so high. To begin with, Shibarium is a forthcoming layer 2 network that aims to alter how Shiba Inu and ShibaSwap operate.
Meanwhile, in the last week, BONE outpaced the top performers in the market, including Bitcoin (BTC) and Ethereum (ETH). For the first time in nearly five months, the asset has broken above $1.6 thanks to the latest climb.
(This site's content should not be construed as investment advice. Investing involves risk. When you invest, your capital is subject to risk).
Featured image from