Despite the crypto market's bloodshed, in the past few days, the Cardano (ADA) trading activity has been relentless, and its holders' balance remains strong with a multi-year high.
Into The Block data indicates that the wallet balance held by long-term Cardano holders hit a multi-year high on February 23.
"Regardless of the price action, Cardano's holders remain strong. The balance held by HODLERS- addresses holding >1 year, is at a multi-year high. These HOLDERS increased their positions to 10.12b $ADA, the largest balance since December 11, 2019."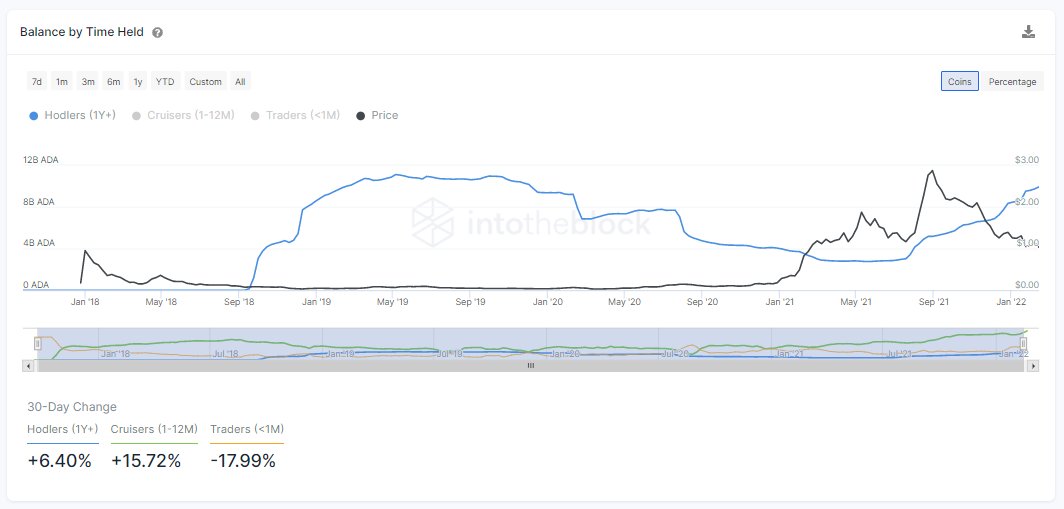 Despite the geopolitical tension causing the altcoin's price to drop dramatically, traders have increased their position of Cardano.
Holders have accumulated the highest balance of ADA since December 2019. Cardano's network recent developments might be serving as fuel to its supporters, and as a consequence, many believe its price will climb.
"Every bounce is still getting sold off, waiting for a final leg down before a reversal. Would consider buying this at 0.50," an analyst noted.
A Finder's poll indicated several analysts believe the price of ADA will reach $58 by 2030, and a few thought it might close this year at $2.72, a 160% increase. Many traders received the $58 prediction as an exaggeration unless the Cardano ecosystem truly manages to explode during the following years.
Expert Vanessa Harris was also bullish on the altcoin. She expects it to close 2022 around the $3 mark, adding that its criticized slow-paced growth could pay off as nations turn their eyes towards it:
"It is one of the few smart contract platforms that have placed security, correctness [and] decentralization at their core, backed by formal methods and peer-reviewed research… While this means Cardano moves more deliberately in the short term, long term this resilience should support adoption by nation-states and non-governmental organizations. We are already seeing this adoption happen in Ethiopia and Tanzania."
However, other experts remained bearish and cited "lack of execution and poor technology" and alleged that "They have failed on their promise of delivery for the last several years." But however slow, the expansion of its DeFi ecosystem is starting to happen and might support the loyal holders' sentiment.
Related Reading | Cardano Daily Transaction Volume Up, But ADA Prices Remain Sluggish
Cardano DeFi Expansion
Cardano volumes and transactions are growing as developers focus on building the first dApps solutions and its DeFi space is set to grow. It has even surpassed the on-chain activity of Ethereum ranking 2nd in 24h transaction volume after registering $17.04 billion on February 22.
In terms of gaining traction, the decentralized exchange SundaeSwap, an Automated Market Maker DEX, was anticipated by many users and launched at the beginning of the year. It tumbled at the beginning due to congestion. But after some adjustments of the block size done by IOHK, the transactions run smoothly now and SundaeSwap reports a Total Value Locked of $21 million.
The boom of NFTs is also contributing to the Cardano blockchain attraction. The non-custodial decentralized exchange ecosystem Arcadex will soon be launched on the network. It has generated enthusiasm for providing a wide variety of DeFi services through both DEX and NFT marketplaces.
Despite the slow-paced growth and 6-month downtrend, Cardano is still gaining traction and holders are not letting go. More growth is expected as the Cardano roadmap aims to increase scalability.
Related Reading | Bitrue Announces Support For Cardano (ADA) As Base Pair On Exchange
Price Of ADA
At the time of writing, Ada is down to $0.83, shedding around 0.72% over the past 24 hours.