The general crypto market has recorded a slight decline in the last week, with the market leader Bitcoin losing 0.78% of its value over the last seven days.  
This price loss amplifies BTC's negative monthly performance, pushing its total loss in the last 30 days to around 5.38%, according to data from CoinMarketCap.
At the time of writing, the premier cryptocurrency is trading at around $29,022, with its daily trading volume valued at $10.746 billion, having gone down 12.54%. 
However, amidst Bitcoin's current downtrend, it appears the token's larger performance could be indicating a bullish market in the coming months.
Bitcoin Could Be Repeating Historic Bullish Price Cycle – What Does This Mean? 
On Aug. 4, crypto analyst Ali Martinez on social media platform X posted that Bitcoin is likely repeating a popular bullish cycle of its price history.  
According to Ali, the token current's price trajectory since attaining its all-time high in November 2021 is identical to its price movement between 2013 and 2017 based on data from Glassnode.
Bitcoin price performance since cycle ATH | Source: Glassnode
If this analysis proves correct, with Bitcoin mirroring its 2013-2017 price cycle, it means Bitcoin is expected to show little price movement in August 2023 and September 2023, perhaps recording some slight gains along the way. 
However, Glassnode data shows BTC could experience a price upswing in October 2023, maintaining a bullish momentum all through this month. Thereafter, the token is expected to undergo a major re-correction finding support in the first week of November 2023. 
Based on the reference price cycle, Bitcoin could then experience a significant price drop in the last month of 2023 but close the year in a strong consolidation zone.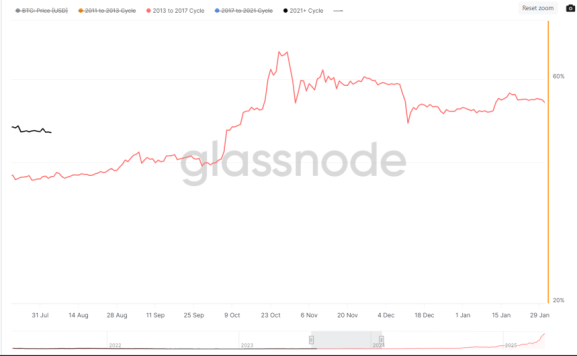 Source: Glassnode
Beyond 2023, the BTC market could also be set for huge profits in 2024 and 2025 if Bitcoin is indeed repeating the 2013-2017 price cycle during which the market leader famously gained by over 1600%.
However, all investors are reminded that predictions are not guaranteed and should not be considered as investment advice. 
Rising Optimism In The BTC Market
In other news, it appears there is a rising positive sentiment around Bitcoin, with a significant increase in its accumulation by key holders. According to a report by on-chain analytics firm Santiment, BTC whales and sharks are currently swapping their BUSD and DAI for more BTC. 
Santiment noted the situation was quite the opposite back in July, with the BTC heavyweights shedding some of their holdings. However, the analytics firm reports that if the current trend is maintained, we could see BTC trade above $30,000 again. 
Related Reading: Bitcoin NVT Shows Bearish Crossover, Price Drop Incoming?
In the last few weeks, Bitcoin has remained among the headlines, with much discussion on the ongoing Bitcoin ETF race in the US.  On Aug. 2, Bloomberg ETF analysts James Seyffart and Eric Balchunas rated the approval chances of the first spot Bitcoin ETF at 65%. This is an impressive upgrade from 50% some weeks ago and 1% a couple months ago. 
  BTC trading at $28,979 on the weekly chart | Source: BTCUSD chart on Tradingview.com  
Featured image from Forbes, chart from Tradingview.