World 44 minutes ago (Feb 12, 2023 11:52AM ET)
4/4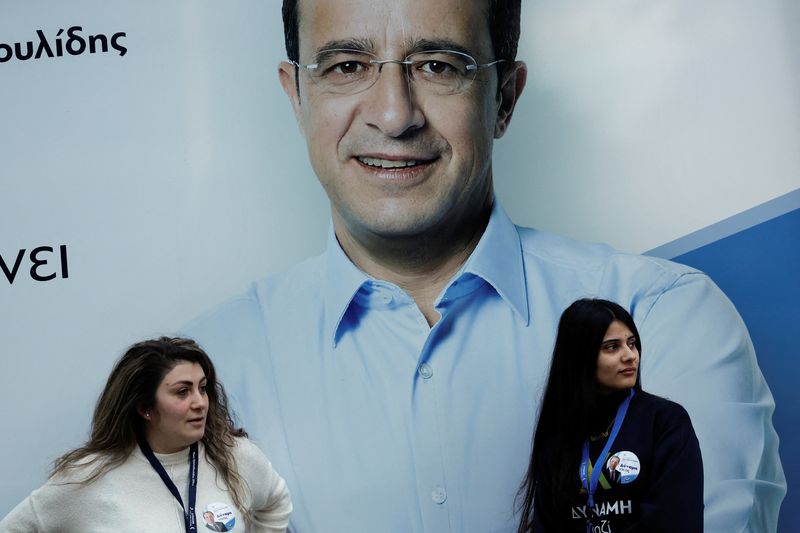 © Reuters. Supporters of Cyprus presidential candidate Nikos Christodoulides are seen in front of a poster, at the campaign headquarters a day ahead of the presidential elections, in Nicosia, Cyprus, February 11, 2023. REUTERS/Louiza Vradi
By Michele Kambas
NICOSIA (Reuters) -Cyprus presidential candidate Nikos Christodoulides took a clear early poll lead after the second and final round of voting in presidential elections on Sunday.
With more than 50% of the votes counted, official results showed Christodoulides, 49, taking 51.9% of the vote, compared with Andreas Mavroyiannis, 66, taking 48.%.
Sunday's vote pitted Christodoulides, a former foreign minister, against career diplomat Mavroyiannis, a former chief negotiator in peace talks with Turkish Cypriots and a former permanent representative of Cyprus to the United Nations.
Christodoulides is backed by centre and right-of-centre parties and Mavroyiannis by the left-wing AKEL. Both say they are running as independents.
The next president faces problems ranging from a deadlock in reunification talks with Turkish Cypriots on the ethnically divided island and labour disputes amid runaway inflation, to the fallout from corruption scandals and a spike in migration that has left authorities coping with thousands of asylum applications.
Presidential elections are held once every five years. Nicos Anastasiades, a conservative of the ruling DISY party, has been in power since 2013, having been re-elected in 2018. By law, he cannot seek a third term.
Cyprus's division for more than half a century loomed large over the campaign. The island has been divided since a 1974 Turkish invasion, triggered by a coup instigated by Greece's then-ruling military junta, though the seeds of division were sown earlier.
The last round of peace talks collapsed in disarray in mid 2017. Christodoulides says he wants to resume talks, but says a United Nations framework governing talks, issued in 2017, should be renegotiated.