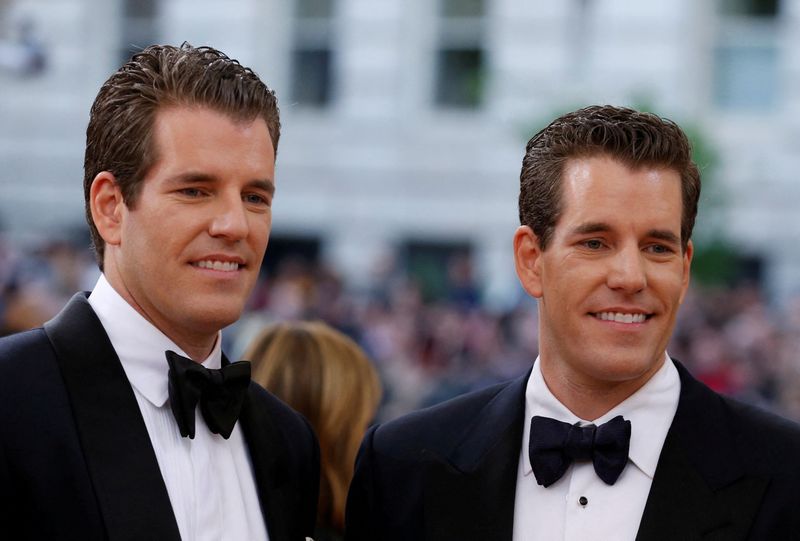 © Reuters. FILE PHOTO: Entrepeneurs Tyler and Cameron Winklevoss arrive at the Metropolitan Museum of Art Costume Institute Gala (Met Gala) to celebrate the opening of "Manus x Machina: Fashion in an Age of Technology" in the Manhattan borough of New York, May 2, 20
By Jonathan Stempel
NEW YORK (Reuters) – Digital Currency Group on Thursday urged a U.S. judge to dismiss a lawsuit claiming it defrauded customers of Gemini Trust, which was founded by billionaire twins Tyler and Cameron Winklevoss, into lending money to its now-bankrupt Genesis Global Capital unit.
In a filing in federal court in Manhattan, DCG and its founder, Barry Silbert, called Gemini's lawsuit part of a public relations campaign to "deflect blame" for losses suffered by hundreds of thousands of customers of Gemini Earn.
DCG and Silbert, who is also a defendant, called Gemini a "sophisticated market participant" that had told Gemini Earn customers, who were expecting high interest rates, that it had "thoroughly vetted" Genesis.
They also claimed to have had no legal duty to correct alleged misstatements by Genesis.
"That is not the law, and if it were, every parent would be liable for every public representation made by its subsidiary," DCG and Silbert said.
Lawyers for Gemini did not immediately respond to requests for comment.
Gemini in a complaint filed on July 7 accused DCG and Silbert of concealing a $1.1 billion balance sheet hole at Genesis that arose from the June 2022 collapse of the Three Arrows Capital hedge fund.
Gemini said the defendants did this so that Gemini Earn customers would continue lending crypto assets to Genesis, believing it was "business as usual."
The lawsuit seeks compensatory and punitive damages. It was moved last week from a state court in Manhattan.
Gemini and Genesis are defendants in a U.S. Securities and Exchange Commission civil lawsuit claiming they bypassed disclosure requirements meant to protect investors in connection with Gemini Earn.
According to the SEC and the Winklevosses, Genesis held about $900 million of assets from approximately 340,000 Gemini Earn customers before halting withdrawals last November.
The halt followed the collapse of Sam Bankman-Fried's FTX cryptocurrency exchange. Bankman-Fried has pleaded not guilty to criminal fraud charges related to FTX's demise.
Genesis filed for Chapter 11 protection in January. Gemini is its largest creditor. Tyler and Cameron Winklevoss are each worth $1.5 billion, Forbes magazine said.
The case is Gemini Trust Co v Digital Currency Group LLC et al, U.S. District Court, Southern District of New York, No. 23-06864.