2/2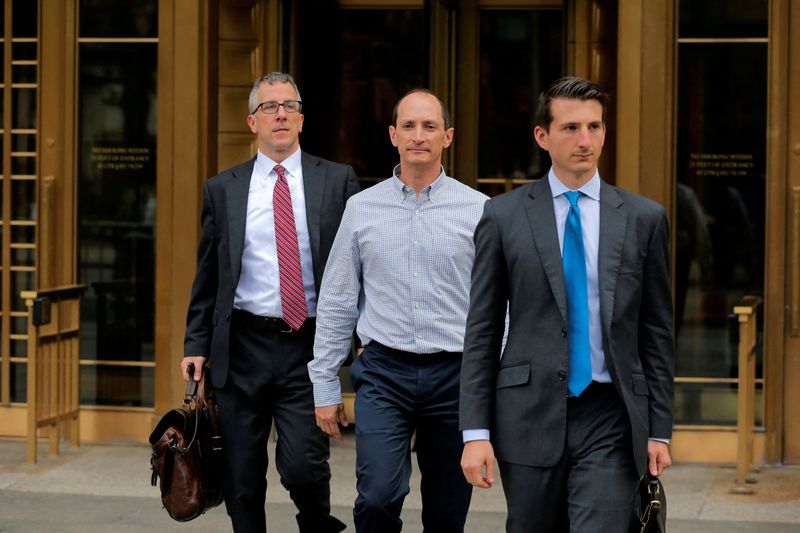 © Reuters. FILE PHOTO: Rob Olan (C), employee of the healthcare investment fund Deerfield Management, departs Federal Court in Manhattan in New York, U.S., May 24, 2017. REUTERS/Lucas Jackson/File Photo
By Jonathan Stempel
NEW YORK (Reuters) -A long-running federal insider trading case based on leaks about planned changes to Medicare reimbursement rates will likely end with no convictions, after the remaining defendants agreed to enter deferred prosecution agreements.
Theodore Huber and Robert Olan, who were partners at the hedge fund Deerfield Management, and David Blaszczak, who founded political consultancy Precipio (NASDAQ:) Health Strategies, will not be retried if they stay out of trouble for three months, according to Tuesday filings in Manhattan federal court.
Prosecutors said Huber and Olan illegally made $7 million trading healthcare stocks from 2012 to 2014 based on tips from Blaszczak about upcoming decisions from the Centers for Medicare and Medicaid Services, including plans to cut reimbursements for radiation cancer treatment and kidney dialysis.
All three were convicted in May 2018 but the federal appeals court in Manhattan tossed their convictions in December, citing a 2020 Supreme Court decision in the "Bridgegate" case that clarified when alleged misuse of property triggered fraud laws.
There, the Supreme Court overturned two convictions for closing access lanes in 2013 to the George Washington Bridge, to punish a local Democratic mayor who refused to support New Jersey Republican Governor Chris Christie's reelection.
In the healthcare case, the Manhattan appeals court said the leaked CMS information did not support fraud and theft charges against Huber, Olan and Blaszczak, though prosecutors could retry them on one or two counts each.
The court also dismissed entirely the conviction of a fourth defendant, former CMS employee Christopher Worrall.
In their deferred prosecution agreements, Huber and Olan acknowledged trading on and Blaszczak acknowledged passing advance information about a proposed CMS rule change.
U.S. District Judge Lewis Kaplan in Manhattan approved the agreements on Monday.
Blaszczak's lawyer David Patton said: "We're very pleased this long, difficult odyssey is finally coming to an end."
Huber's lawyers Barry Berke and Dani James said they were pleased their client's "long and unfortunate ordeal" was ending.
Lawyers for Olan did not immediately respond to requests for comment. A spokesman for U.S. Attorney Damian Williams in Manhattan declined to comment.
The case is U.S. v. Blaszczak et al, U.S. District Court, Southern District of New York, No. 17-cr-00357.