5/5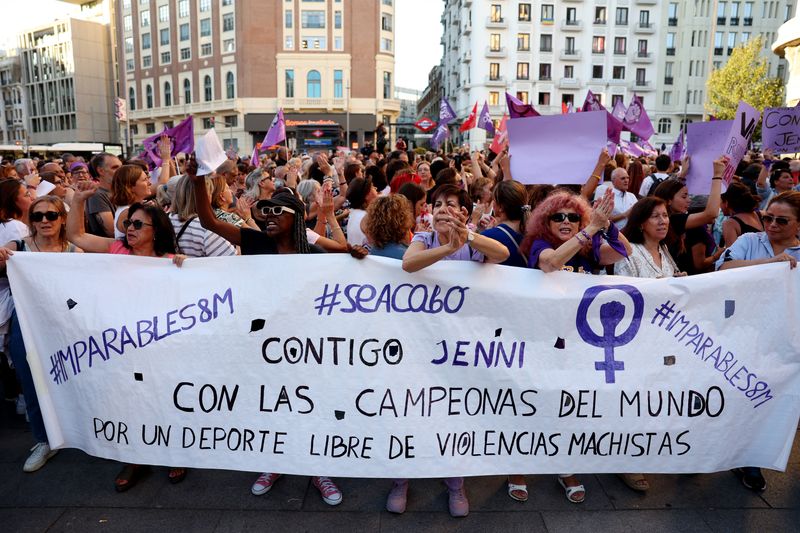 © Reuters. Soccer Football – People protest against Royal Spanish Football Federation President Luis Rubiales – Plaza Callao, Madrid, Spain – August 28, 2023 People hold banners and protest in Madrid following a kiss between Royal Spanish Football Federation Preside
By David Latona and Emma Pinedo
MADRID (Reuters) -Spain's High Court prosecutor on Monday opened a preliminary investigation into whether national soccer chief Luis Rubiales might have committed an act of sexual aggression when he grabbed player Jenni Hermoso and kissed her on the lips after Spain's victory in the women's World Cup.
A spokesperson for the prosecutor's office said the court had received several complaints but would launch a full inquiry only if Hermoso sought one. Hermoso has said she did not want to be kissed.
The move increased the pressure on Rubiales, the president of the Royal Spanish Football Federation (RFEF), who was suspended by FIFA on Saturday amid a furore over the incident at the ceremony following Spain's World Cup win in Sydney on Aug. 20.
Rubiales, 46, has refused to step down, saying the kiss – which took place in a globally watched live broadcast – was consensual. Hermoso, her teammates and the Spanish government say it was unwanted and demeaning.
Following a marathon meeting, the RFEF regional chiefs unanimously requested in a statement on Monday night the immediate resignation of Rubiales following the recent events and the "unacceptable behaviours" that have seriously damaged the image of Spanish football.
The situation has spiralled into a national row over women's rights, macho behaviour and sexual abuse.
The Sports Administrative Court was due to decide whether to take up a case against Rubiales after an extraordinary meeting on Monday.
Acting Labour Minister Yolanda Diaz said that Rubiales' defiance and the support from some federation members showed that macho behaviour was systemic in Spanish society.
"What footballer Jenni Hermoso experienced should never have happened," Diaz said in a video statement prior to a meeting with the women's players' union.
In the evening, hundreds of people gathered in downtown Madrid at protests called by feminist groups in support of Hermoso and against Rubiales.
People called for his resignation, chanting: "It's not a kiss, it is aggression."
United Nations spokesperson Stephane Dujarric said on Monday that sexism was still a critical issue in sport and urged the Spanish authorities and government to deal "with this in a manner that respects the rights of all female athletes."
"How difficult is it not to kiss somebody on the lips? I don't see any indication that anything was consensual," Dujarric added.
In a further twist, Rubiales' mother locked herself inside a church and started a hunger strike to protest against her son's treatment.
All 23 players on Spain's cup-winning squad including Hermoso, as well as dozens of other squad members, said on Friday they would not play internationals while Rubiales remained head of the federation. Their next match is away to Sweden in the Nations League on Sept. 22.
SPONTANEOUS?
At a federation meeting on Friday where he had been widely expected to step down, Rubiales refused to quit, seeking to defend his behaviour and calling the kiss "spontaneous, mutual, euphoric and consensual."
RFEF has said Rubiales would defend himself legally to prove "his complete innocence."
Diaz, who is also deputy prime minister in the acting Socialist government, on Monday met representatives of the women's players' union FUTPRO, which represents Hermoso, and the Association of Spanish Footballers.
Speaking to reporters afterwards, she condemned RFEF members who had applauded Rubiales' non-resignation on Friday. Diaz called for victims of sexual harassment and violence to be better protected.
"On Friday we saw the worst of Spanish society, of the structural machismo of this country," she said.
"They clapped and humiliated and made fun of a person they had the obligation to protect under the sports law and far from doing that, they inflicted more damage, more pain, more vexation."
The coaches who applauded Rubiales were not fit to stay in their posts, she said.
Meanwhile in defence of Rubiales, his mother Angeles Bejar was holed up inside the church of Divina Pastora in the family's hometown of Motril, southern Spain, along with her sister.
"She has gone on hunger strike, she does not want to leave the church," Vanessa Ruiz, a cousin of Rubiales, told reporters outside the church.
Ruiz said the family wanted Hermoso to "tell the truth" that the kiss was not forced.
Bejar told EFE news agency her hunger strike would last "until a solution is found to the inhumane and bloody hunt they are carrying out against my son with something he does not deserve."
Ruiz said Rubiales' family was "suffering a lot for him, we don't think that what's happening is fair."
"He has been judged ahead of time," she said.
Hermoso has said she did not consent to the kiss and felt "vulnerable and the victim of an aggression."
Gender issues are a prominent topic in Spain. Tens of thousands of women have taken part in street marches protesting against sexual abuse and violence in recent years, and the Socialist-led coalition government has reformed laws including around equal pay and abortion rights.