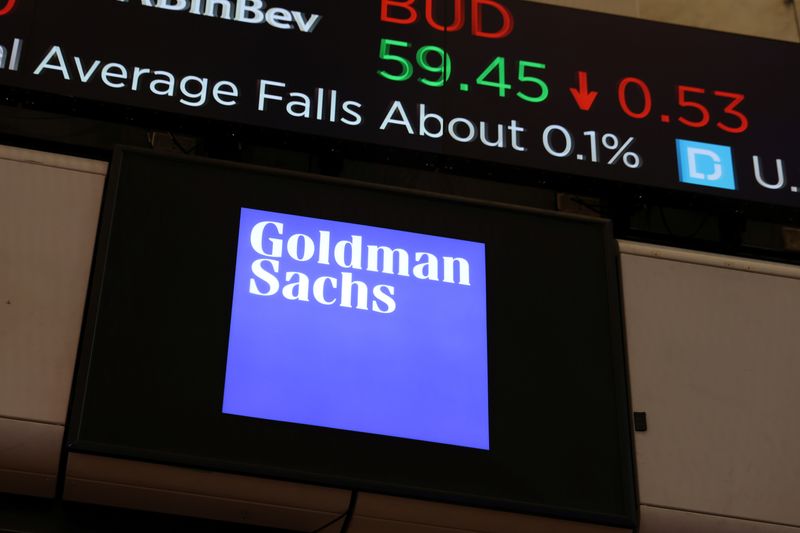 © Reuters. FILE PHOTO: The logo for Goldman Sachs is seen on the trading floor at the New York Stock Exchange (NYSE) in New York City, New York, U.S., November 17, 2021. REUTERS/Andrew Kelly/File Photo
By Lananh Nguyen, Niket Nishant and Manya Saini
(Reuters) – Goldman Sachs (NYSE:) executive Julian Salisbury will join investment firm Sixth Street as a partner and co-chief investment officer early next year, his incoming firm said, marking yet another high-profile exit from Goldman.
Salisbury, who was chief investment officer of asset and wealth management at the Wall Street giant and a member of its management committee, has more than 25 years of investing experience in private and public markets. He steered Goldman's management of $2.7 trillion in assets.
Salisbury will reunite with Goldman alums in his new role, including Sixth Street CEO Alan Waxman. The firm manages $65 billion in assets.
"The prospect of joining their partnership to help drive the next set of investment opportunities became an obvious and compelling proposition," Salisbury wrote in a LinkedIn post.
The Goldman veteran joined as an analyst in London in 1998, and later worked in Moscow before moving to New York a decade ago. Salisbury became a partner in 2008 and previously served as global co-head of the asset management unit before it was combined with wealth management under Marc Nachmann last year.
"Julian is a seamless fit," Waxman said in a statement. "He has distinguished himself time and again as a superstar investor and business builder."
A wave of senior personnel has exited from Goldman in recent months. Dina Powell McCormick (NYSE:), head of the bank's sovereign business, recently left to join merchant bank BDT & MSD Partners, led by co-CEO Gregg Lemkau, who previously ran investment banking at Goldman. Katie Koch departed after two decades to become CEO of asset manager TCW Group. Goldman is in a crucial phase as it aims to expand in asset management and undo damage from an ill-fated foray into consumer banking.
Goldman's asset management division has promoted 11 partners and hired nine new managing directors focused on investing this year, a company spokeswoman said. Its attrition rate is the lowest in years for investors who are managing portfolios, she said.
Salisbury has "done a great job putting together all these asset management businesses over the last few years," Nachmann said in an interview. "It's been great to work with him and I'm excited for him."
Goldman's revenue from asset and wealth management slid 4% to $3.05 billion for the second quarter compared with a year earlier, hurt by losses in real estate investments, the bank reported this month. But it also brought in record management fees and assets under supervision.
In a memo announcing Salisbury's departure, Goldman CEO David Solomon credited him with unifying five different investment platforms and joining together its traditional and alternative asset management operations.
Solomon's plans to sharpen its focus on key businesses such as asset management and trading are gaining traction with the board, two sources close to him told Reuters earlier this month.
Salisbury expressed confidence in the bank's leadership to run the division he helped consolidate.
"Julian operated comfortably in emerging markets, like Russia and China, and took over challenged portfolios in tough times, as in the financial crisis," former Goldman CEO Lloyd Blankfein said. "Always putting the firm first, he was a great partner and I wish him success."