No one can predict the future, but you can prepare. Find out what to prepare for and pick up the tools you'll need at the immersive Virtual Inman Connect on Nov. 1-2, 2023. And don't miss Inman Connect New York on Jan. 23-25, 2024, where AI, capital, and more will be center stage. Bet big on the roaring future, and join us at Connect.
Barbie is having a moment right now — at the box office, on fashion runways and even in home design. 
The real estate industry is turning pink in every way imaginable, from recreating Barbie's Dream House in listing videos to the four-part Barbie Dreamhouse Challenge event series on HGTV, where they're remaking an entire house in Barbie décor throughout the decades. 
And while some are stepping into the Barbie (marketing) magic, others have been incorporating the color pink into their brands long before the Barbie movement. 
"Barbie represents so many ideals when it comes to personalization, customization, exclusivity, lifestyle and aspirations," said Dan Nicoloff, director of operations at Engel & Völkers Dallas Southlake. "Luxury real estate embodies all of these features, especially when it comes to searching for your own personal dream house."
Here are some of our favorite ways Barbie is showing up in real estate.  
Pink looks so good in your living room 
Interior design trends are taking a page from Barbie Land this year as we see the rise in colorful, playful design, vibrant pink hues and vintage finds incorporated into home décor.
Etsy Trend Expert Dayna Isom Johnson told Harper's Bazaar that "Barbiecore" is a "much-welcomed mood-booster after the last few years," and it's all about embracing vibrant hues — particularly the doll's signature hot pink — in everyday life.  
She says, that "with many nostalgic for simpler, sunnier and more carefree times, it only makes sense that this '80s-inspired, unapologetically pink aesthetic is taking center stage as the 'it' style of the moment." 
Barbie on the 'gram 
Barbie loves to splash everything in pink, so why would her social media feed be any exception? 
Several real estate influencers are using Barbie pink in their branding because of the strength and positivity it suggests. 
Sue "Pinky" Benson adopted the signature shade for her brand when she began selling 15 years ago, motivated to differentiate herself from what others were doing. 
"Pink is sometimes seen as a weak or gentle color, but the Barbie movie is bringing it forward and giving it strength," Benson said. "And as we embrace Barbie, it's OK to remember that things are not always going to be traditional. If we don't take in these colors and changes and try new things, how will we ever evolve?"
Benson, who drives a pink car and is known for her signature pink hair and wardrobe, began using pink in her branding as a way to differentiate herself from other real estate agents named Sue — there were five in her office alone at the time. 
"Pink is a positive color," Benson said. "It brings happiness, and it has done me well when it comes to branding."
Another real-life "Barbie Girl," real estate broker and motivational speaker Barb Betts, fully embraces the idea that because Barbie can be anything, women can be anything.
"Embracing all amazing versions of ME has been one of the biggest accomplishments I've made in my life," Betts wrote in an Instagram post. "My personal growth and confidence journey has me on the other side, proud to be a real-life Barbie Girl."
Now for sale: Pink Paradise Manor 
RE/MAX made pink-tinted waves when they launched their newest listing at 101 Dream Street in Glamourville, priced at "$1m fabulous smiles." 
The listing included photos of an enchanting pink modern mansion that overlooks the ocean, "transporting you to a world of elegance and endless possibilities."  
Home features included a cupcake maker, auto-restocking fridge, hair processor and water-resistant, pink wood flooring.  
"In the real estate landscape where differentiation matters, this trend showcases the power of design, aesthetics and pushing boundaries," said Abby Lee, senior vice president of marketing and communications at RE/MAX. "For RE/MAX the alignment of a marketing moment with the appeal of a distinctive, trendsetting home created a unique synergy that resonated with our followers, as evidenced by our compelling social statistics." 
The mock listing was the most-liked post of all time on the RE/MAX Instagram channel with 5,180 likes. It also received 219 comments. Across all social media, the posts about the mock listing resulted in 7,202 likes, 284 comments and 459 shares.
"The real estate arena is competitive and setting oneself apart as a company and as an agent is paramount," said Lee. 
'Barbie in the REEL world? That's impossible.'
Aimee Lucas, a Realtor in Oak Ridge, Tennessee and host of American Dream, has been incorporating Barbie into her Instagram reels strategy, including sharing exactly what she would do if she were the listing agent on the Barbie Dream House. 
She has also been featuring the Barbiecore interior design trend in carousel posts and trending audio from the Barbie movie in her reels. 
In addition to Barbie, Lucas is not shy about incorporating other pop culture moments into her real estate marketing, most recently recreating Kourtney Kardashian's pregnancy announcement to Travis Barker with a sign that says "Travis, Aimee is our realtor." 
"People laugh at the Barbie trend, but you have to embrace pop culture and incorporate trends into your marketing," Lucas said. "Real estate is professional, but we have to have fun and express ourselves, too." 
If Barbie hosted a broker open, it would be a great day every day
Engel & Völkers has been embracing Barbie and the corporate level and encouraging their offices and agents to do the same. 
"At the corporate level, Engel & Völkers Americas created a Barbiecore-themed Instagram reel that highlighted some of our luxury listings and transformed them into Barbie Dreamhouses using an AI filter," Nicoloff said. "We shared that at our shop level to get the ball rolling and also hosted a Barbie-themed event that had a really great engagement."
Lindsey Williams and Roxann Taylor
Kelley Thompson and Brookie Robbins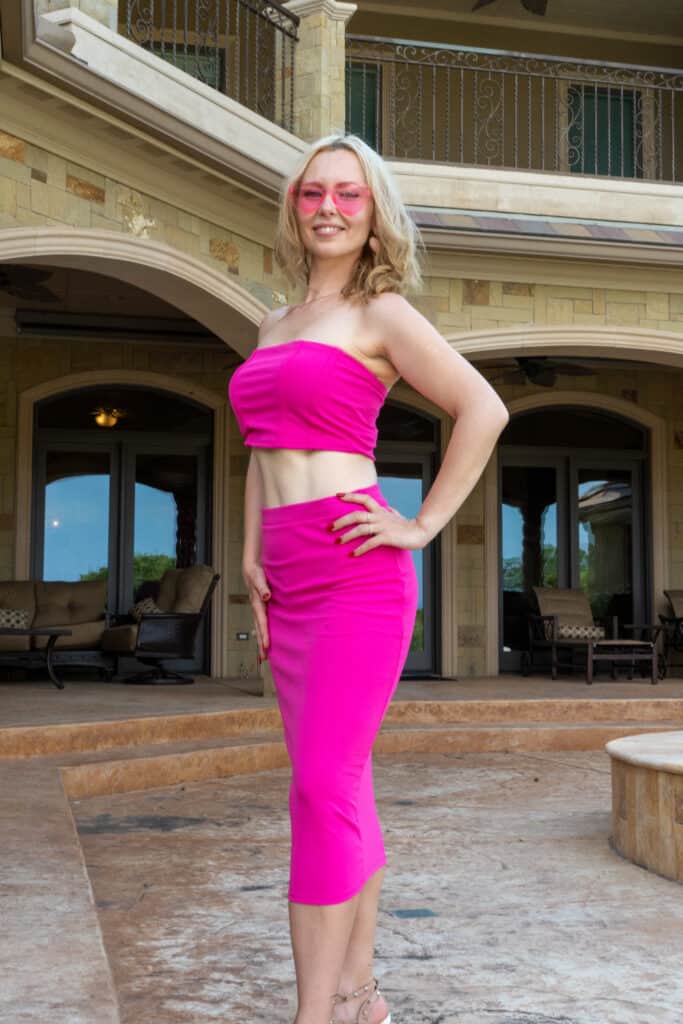 Irina Hightower
Dan Nicoloff and Amber Butcher
Aziza MacIsaac and Hannah Fentriss

Engel & Völkers Dallas recorded its biggest broker open attendance when they incorporated a Barbie theme at a home for sale in Southlake, Texas, with 360 booths, vendor tables with jewelry, shopping, and gifts. They gave awards for "Best Dressed Barbie" and "Best Dressed Ken." 
"The Barbie trend is resonating with the world right now. Aside from the movie's incredible marketing strategy, Barbie is relevant across multiple generations and income levels," Nicoloff said.
Maris Callahan Messervey is a national social media coach, mentor, media-trained public speaker, and founder of Social Broker. Connect with her on LinkedIn or Instagram.