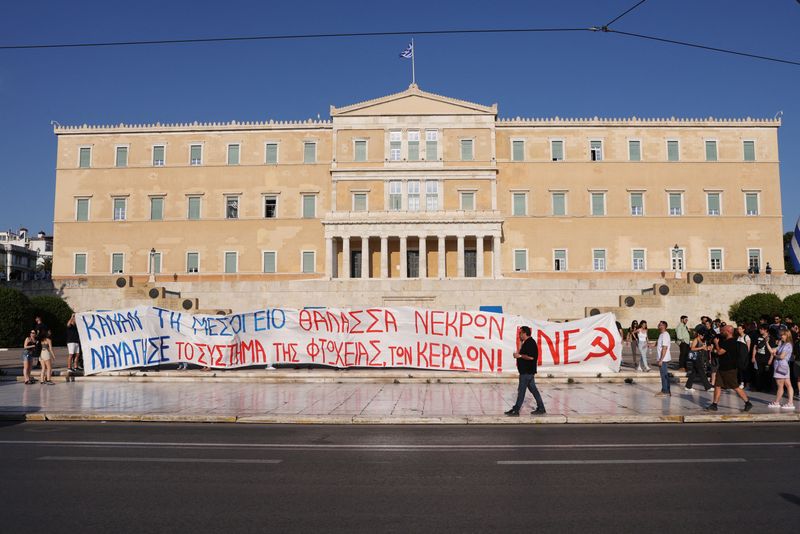 © Reuters. Protesters hold a banner during a demonstration in front of the parliament building, following a deadly migrant shipwreck off Greece, in Athens, Greece, June 14, 2023. The banner reads: "They made the Mediterranean a sea of the dead. The system of poverty
By Lefteris Papadimas and Karolina Tagaris
KALAMATA, Greece (Reuters) – As Greece confronts its worst sea disaster in years, questions are mounting about how potentially hundreds of migrants drowned even as their vessel was being shadowed by the Greek coastguard.
At least 78 people died when the fishing vessel flipped and capsized in international waters south-west of Greece early on Wednesday. Authorities rescued 104 people but hundreds are feared missing, with some witnesses saying up to 750 people were aboard.
According to timelines from authorities and activists, the Greek coastguard was alerted to the presence of the vessel 47 nautical miles (87 km) south west of Greece at around 0800 GMT on June 13. It capsized at around 2300 GMT that day.
Exactly what happened in the intervening 15 hours remains unclear. A migrant charity says a person they were in contact with on the boat said it was in distress, but Greek authorities say it repeatedly refused offers of help.
Following are some details from the accounts say far:
LEAVING LIBYA
Two Greek sources familiar with police inquiries say that, based on accounts from about 30 survivors, the ageing fishing vessel left Tobruk, in Libya, early on June 10.
Passengers paid $4,500 for passage to Italy, the two Greek sources said. Based on some accounts, there were about 20 women and children among the passengers. They booked their voyage on social media, according to a maritime ministry official.
Traffickers had promised ample room on the vessel, but once passengers arrived at the scheduled departure point and saw it was overcrowded it was impossible to turn back, those sources said.
Over the next few days at sea the boat developed "two or three" mechanical faults, which were fixed by a crew of between 8-10 people. Progress was slow.
"If people reacted the traffickers would shout and threaten to stop giving them water," one of the sources said, citing accounts of survivors.
Passengers were also adamant about getting to Italy, which borders visa-free EU member states permitting safe passage, rather than Greece, circled by Balkan states that are taking an increasingly tough line on migration, they said.
MIXED MESSAGES
Advocacy group Alarm (NASDAQ:) Phone, which operates a trans-European network supporting rescue operations, said it received its first call from the boat just after 1200 GMT on June 13 to say the vessel was in distress. The person they communicated with said "they cannot survive the night".
Greek authorities had also established contact with the vessel.
But in repeated communication with the boat, from 1330 to 1800 GMT Greek authorities say people on the vessel told them they wanted to sail to Italy and wanted no assistance from Greece.
Aerial photos of the vessel taken by the Greek coastguard hours before the tragedy unfolded showed a vessel crammed with people on its exposed decks. Some had their hands outstretched.
Greek officials say they were faced with a dilemma on what to do with a vessel that had repeatedly declined offers of assistance, worried that even the slightest shift could unbalance the boat.
"You cannot carry out a violent diversion on such a vessel with so many people on board, without them wanting to, without any sort of cooperation," said Nikos Alexiou, a spokesperson for Greece's coastguard.
Under EU law, determining whether a vessel is in distress is based on a number of factors, including the state of the vessel, the number of people on board, weather conditions and availability of safety, navigation and communication equipment.
When the boat reported engine failure and stalled, a coastguard vessel shadowing them came closer. In just under 25 minutes, coastguard witnesses saw the boat tilt sharply right to left. In 10 to 15 minutes, the boat was gone.
The precise number of victims might never be known. The waters in which the boat sank are some of the deepest in the Mediterranean, where depths can exceed 5 km.