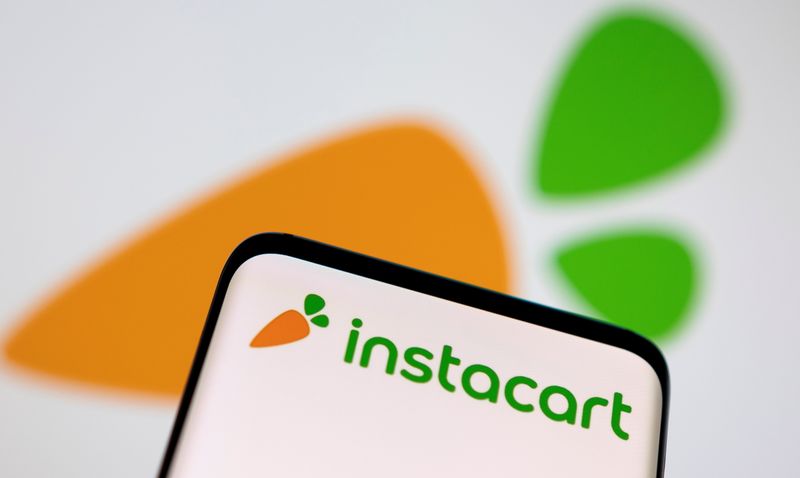 © Reuters. Smartphone with displayed Instacart logo is seen in this illustration taken March 25, 2022. REUTERS/Dado Ruvic/Illustration/file photo
By Niket Nishant and Anirban Sen
(Reuters) -Grocery delivery service Instacart on Friday said its core business turned profitable after making public its filing for a long-awaited stock market launch, while also disclosing an investment from PepsiCo (NASDAQ:) Inc.
San Francisco-based Instacart, which filed confidentially for its initial public offering (IPO) in May 2022, said in the filing to the U.S. Securities and Exchange Commission that PepsiCo had agreed to buy $175 million in preferred convertible stock.
Norges Bank Investment Management, a division of Norges Bank, and entities affiliated with venture capital firms TCV, Sequoia Capital, D1 Capital Partners and Valiant Capital Management have agreed to participate in the IPO as cornerstone investors, Instacart said.
For the six months ended June 30, Instacart's revenue came in at $1.48 billion, up 31% from the same period last year. Advertising and other revenue surged 24% to $406 million. It reported net income of $242 million during the six-month period, compared to a $74 million loss a year earlier.
Instacart's push to go public comes days after SoftBank (TYO:) Group-backed chip designer Arm Holdings disclosed the paperwork for its IPO filing.
Like Arm and marketing automation firm Klaviyo, Instacart is expected to list its shares in September – part of a wave of high-profile names testing investor appetite for new stocks. The market for new listings has been subdued for most of the last two years due to Russia's invasion of Ukraine and the spike in interest rates.
If successful, the listings could revitalise the U.S. IPO market, which has already seen some green shoots this year on bets that the U.S. Federal Reserve's interest rate policy could guide the economy to a "soft landing."
"I think we're going to see more companies kick off their (IPO) process in 2024, which is when a healthy IPO market will return," said Mike Bellin, IPO services leader at PricewaterhouseCoopers U.S.
The fact that Instacart is generating a profit could also help it find favour among wary IPO investors, who since last year have stayed away from listings of loss-making startups, analysts said.
LONG ROAD TO IPO
Instacart's move to go public comes years after it first started making preparations for a stock market debut. Reuters reported in November 2020 that it hired Goldman Sachs to help lay the groundwork.
Founded in 2012 by Apoorva Mehta, Max Mullen, and Brandon Leonardo, Instacart brought in former Facebook (NASDAQ:) executive Fidji Simo as its Chief Executive Officer and former Goldman Sachs technology banker Nick Giovanni as its Chief Financial Officer in 2021 as part of its preparations to go public.
In March 2021, Instacart added Snowflake CEO Frank Slootman, a software industry veteran behind some big IPOs, to its board.
Customers can order through the Instacart app, and an Instacart "shopper" delivers the product in as little as 30 minutes.
The company has also expanded its delivery business to non-grocery goods such as those from beauty product retailer Sephora, convenience store 7-Eleven and pharmacy chain CVS Health (NYSE:).
According to data by Euromonitor, the online grocery sector was set to be the largest source of growth for the U.S. food and beverage industry, adding nearly $100 billion in sales by 2027.
The company also sells software-as-a-service offerings targeted at retailers and charges fees for such offerings.
Its core delivery business received a boost in 2020 during the COVID-19 pandemic due to a surge in online orders. But as lockdown restrictions started easing from 2021, growth slowed down and market volatility forced the company to revise its valuation.
In December 2022, Instacart slashed its internal valuation to as low as $10 billion, 74% less than the $39 billion price tag in its funding round in 2020.
"While we do not expect our pandemic-accelerated growth rates to recur in future periods, our growth during this period helped establish a business with much greater scale and much higher gross profit," Instacart said in the filing, known as an S-1.
Instacart had earlier planned to list in the fourth quarter of last year, but deferred those plans as a sell-off in technology stocks and the Fed's rate hikes caused a rout in equities.
The company filed for the IPO as "Maplebear," the name under which it was incorporated.
Goldman Sachs and J.P.Morgan are the lead underwriters for the offering, Instacart said, adding that its shares would be listed on the Nasdaq under the symbol "CART."