The Bitcoin market is experiencing a seismic shift, with recent data revealing fascinating trends that shed light on the evolving dynamics. From a significant decline in Bitcoin inflows to a historic drop in supply on exchanges, coupled with a surge in institutional fund accumulation, these developments highlight a maturing market and changing investor sentiment.
Unprecedented Decline In Bitcoin Inflows and Supply
The on-chain analytics service CryptoQuant has today published extremely interesting data on the behavior and cohorts of Bitcoin hodlers via Twitter.
Over the past 612 days, Bitcoin has witnessed an 80% decline in the number of addresses recording inflows, which can be interpreted as selling activity. This decline reaches an even higher figure of 84% when measured from the peak in May 2021. These numbers even surpass the previous record set during the 2017 parabolic top, demonstrating the magnitude of the current trend.
Both narrowly beat the second highest decline in addresses associated with inflows between the 2017 parabolic top into 2018 bear, at 78.5%.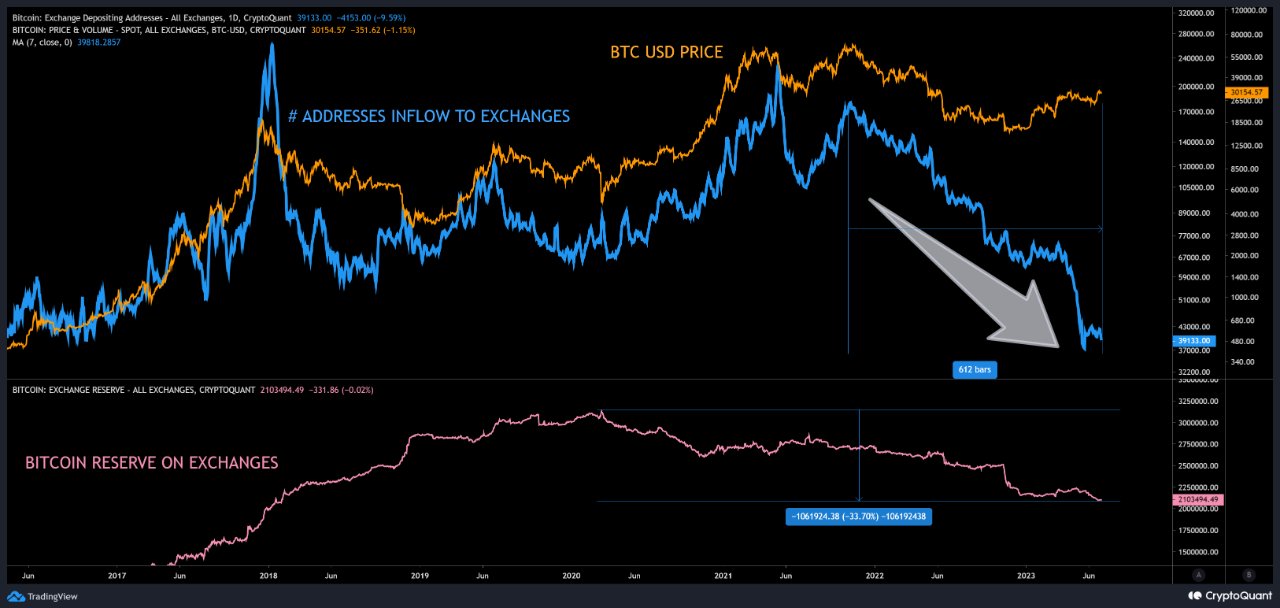 It is important to note that these figures do not account for addresses that have moved to self-custody or differentiate between miner activity and retail investors. This suggests that the decline in addresses associated with inflows may be even more significant than the data implies, potentially indicating a shift towards long-term holding strategies or alternative custodial methods.
In a parallel trend, the overall supply of Bitcoin on exchanges has been steadily shrinking since March 2020, marking a period of consistent decline that had not been witnessed before in Bitcoin's history. This decline is not only significant in its duration but also in its depth, as Bitcoin reserves on exchanges have dropped by over 30%. CryptoQuant's experts further note:
March 2020 was the highest ever supply recorded on exchanges, and preceded by consistent ten years of supply growth. The 1200 days since, are the first period of consistent decline in Bitcoin's history. […] Retail traders and institutions are holding more Bitcoin than ever.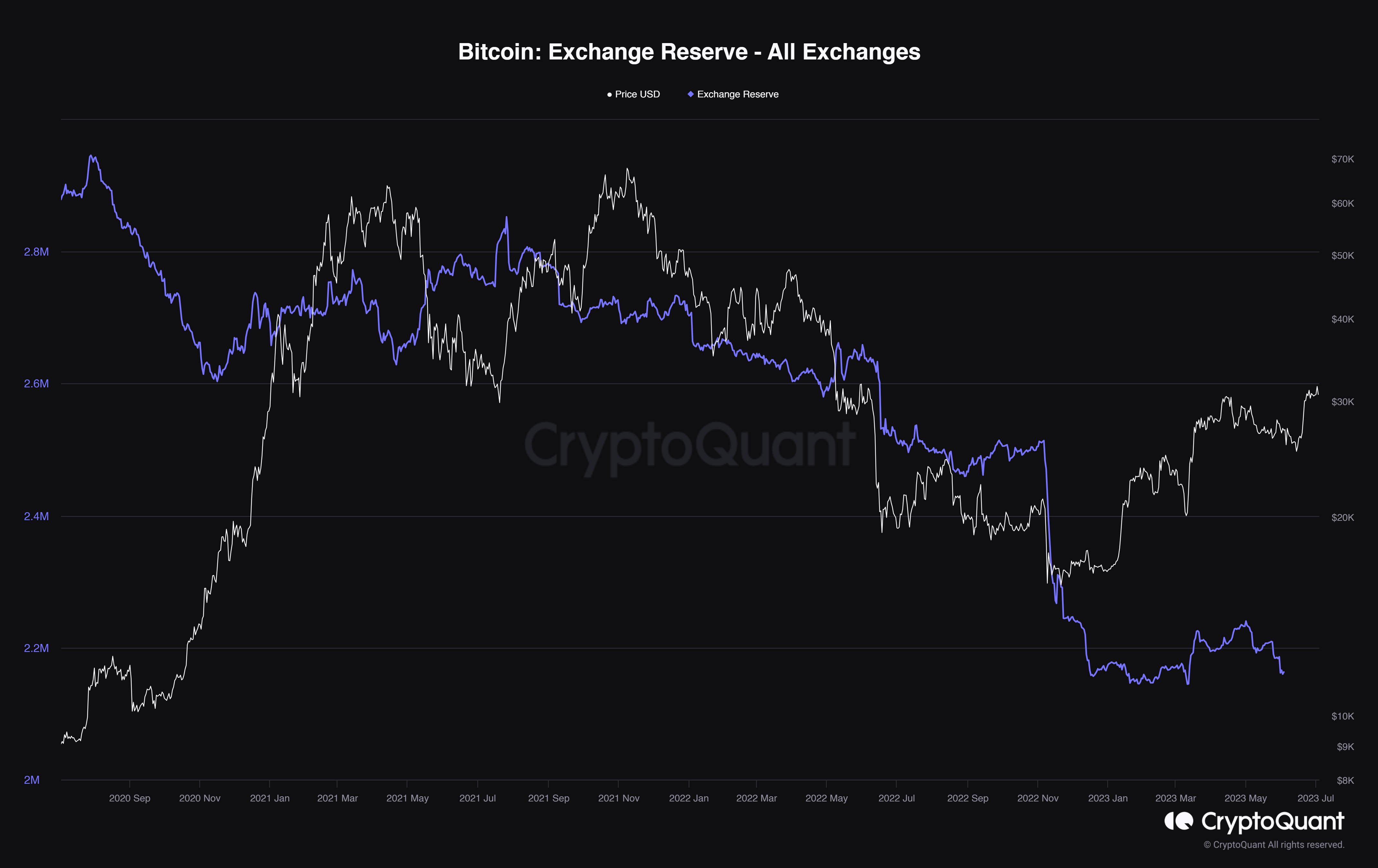 This also indicates a major potential shift from active trading and speculative behavior towards long-term holding strategies.
Institutional Fund Accumulation Signals Confidence
As the decline in inflows and supply unfolds, another intriguing trend emerges: institutional fund accumulation, as observed by CryptoQuant. Institutional investors, including hedge funds, investment firms, and cryptocurrency private funds, are currently actively increasing their holdings of Bitcoin.
This exponential increase in fund holdings demonstrates a strong interest in acquiring Bitcoin, even at its current price level. Institutional investors often take a more patient and long-term approach compared to short-term traders who closely monitor price fluctuations.
By closely monitoring fund holdings, investors can gain valuable insights into market sentiment and the confidence that institutional investors have in Bitcoin as a long-term asset. And the following chart by CryptoQuant is showing just that, an ultra bullish stance by institutions.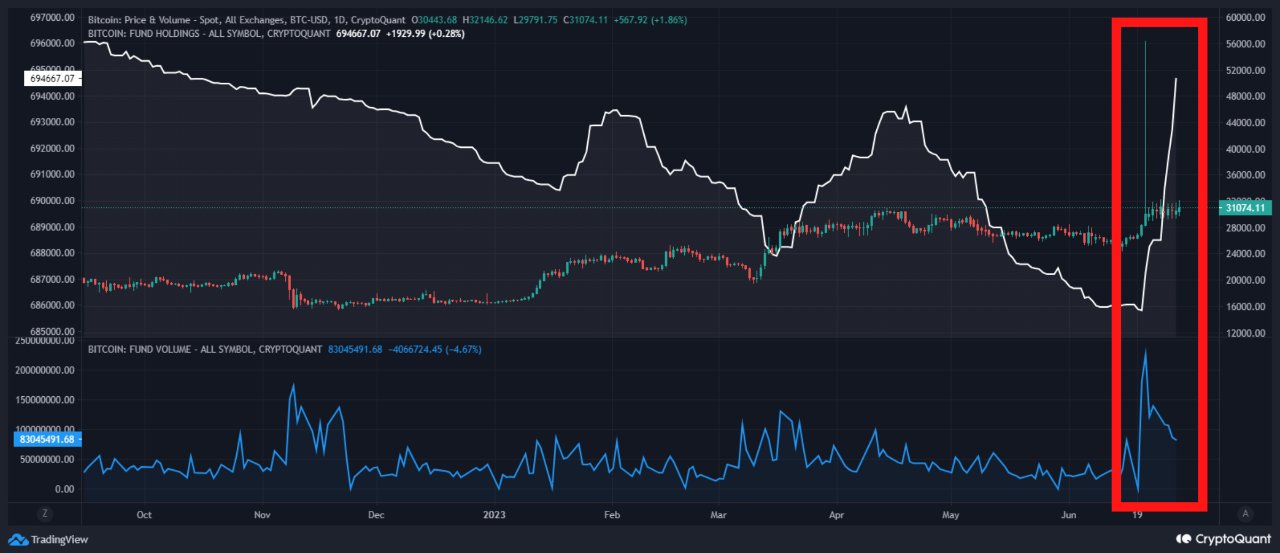 The positive evolution of Bitcoin's perception is probably further reinforced by recent developments in the regulatory landscape and the introduction of exchange-traded funds (ETFs). Regulatory frameworks, especially those being implemented by countries in the European Union with MiCA, are beneficial for the institutional Bitcoin adoption.
Moreover, the filings and re-filings of Bitcoin spot ETFs by major financial institutions, including BlackRock and Fidelity, indicate a growing recognition of Bitcoin's potential as a legitimate investment. These ETFs provide a more accessible and regulated way for investors to gain exposure to Bitcoin, potentially driving further institutional adoption and market growth.
At press time, the BTC price stood at $30,716, remaining in its range between $29,800 and $31,000.
Featured image from iStock, chart from TradingView.com