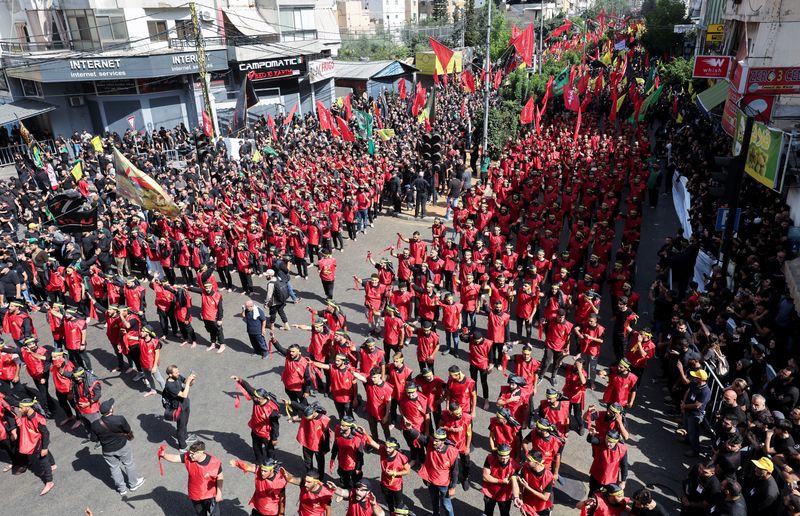 © Reuters. Lebanon's Hezbollah supporters march during a religious procession to mark Ashura in Beirut's southern suburbs, Lebanon July 29, 2023. REUTERS/Aziz Taher/File Photo
BEIRUT (Reuters) -Lebanon's caretaker premier Najib Mikati said on Saturday there was no cause for "concern or panic" about his country's security situation, after Germany and Gulf countries issued new travel warnings following outbreaks of violence.
Saudi Arabia, Kuwait, Bahrain, Germany and Britain updated their travel warnings amid clashes between rival armed groups in the Palestinian camp of Ain el-Hilweh in Lebanon's south.
In a statement, Mikati said he had spoken with his security chiefs and assessed that the situation "does not call for concern or panic". He said there had been "significant progress" in resolving the violence in Ain el-Hilweh, where at least 13 people have been killed in fighting.
The statement said foreign minister Abdullah Bou Habib had been tasked with reassuring Arab countries that their citizens were safe in Lebanon.
The Saudi embassy on Friday urged its citizens to leave Lebanon quickly and avoid areas where there have been armed clashes. Bahrain followed suit a day later and called on its citizens to leave the country, according to a foreign ministry statement.
The Saudi statement on X, formerly known as Twitter, stressed "the importance of adhering to the Saudi travel ban to Lebanon".
Kuwait on Saturday urged its nationals in Lebanon to stay vigilant and avoid "areas of security disturbances," but stopped short of asking them to leave.
Last week, Germany warned citizens not to travel to Palestinian camps in Lebanon, among other areas. Britain advised against "all but essential travel" to parts of Lebanon's south, including near Ain el-Hilweh.
Around a quarter of the camp's 80,000 residents have been displaced by fighting there on July 29 between mainstream faction Fatah and hardline Islamists
Ain el-Hilweh is the largest of 12 Palestinian camps in Lebanon, which host up to 250,000 Palestinian refugees, according to the United Nations' agency for refugees from Palestine (UNRWA).