In these times, double down — on your skills, on your knowledge, on you. Join us August 8-10 at Inman Connect Las Vegas to lean into the shift and learn from the best. Get your ticket now for the best price.
Executives at Mr. Cooper see an opportunity to grow the company's mortgage servicing rights portfolio past the $1 trillion mark this year, with mortgage lenders facing liquidity problems looking to sell the rights to collect payments on loans they originate to a limited pool of buyers.
While rising mortgage rates have spelled trouble for lenders, they can be a boon for loan servicers like Mr. Cooper, which is now collecting payments on nearly $870 billion in loans after growing its servicing portfolio by 23 percent last year.
Rates move in both directions, however, and the decline in mortgage rates during the last three months of the year forced Mr. Cooper to write down the value of its mortgage servicing rights by $58 million, the company disclosed in releasing fourth-quarter earnings Friday.
As a result, Mr. Cooper essentially broke even during the fourth quarter, eking out a $1 million profit on $303 million in revenue. That's in sharp contrast to the third quarter, when a big chunk of the company's $510 million in revenue came from a $124 million "mark-to-market" increase in the fair value of Mr. Cooper's mortgage servicing rights, helping the company book $113 million in net earnings.
To help grow its mortgage servicing portfolio, Mr. Cooper acquires mortgages originated by correspondent lenders and also "recaptures" borrowers by offering refinancing directly to homeowners from which it's collecting payments. Like other lenders, Mr. Cooper has seen its originations business dwindle, forcing the company to slash more than 1,000 jobs last year.
But looking back at the year as a whole, the Dallas-based loan servicer reported $923 million in profits on $2.46 billion in revenue — largely on the strength of a loan servicing business that's poised for continued growth, executives said.
While 2022 "was obviously a very challenging year for the industry," Mr. Cooper "was able to deliver exceptional results," growing its mortgage servicing portfolio by $160 billion, Chairman and CEO Jay Bray said on a call with investment analysts.
"This is outstanding performance, which validates our balance strategy, as well as the technology investments we've made in our platform and the skills to commitment and the hard work of our team members," Bray said.
In addition to repurchasing 5.4 million shares of common stock for $240 million last year, Mr. Cooper is taking advantage of its strong performance to acquire a New York-based investment management firm, Roosevelt Management Company LLC, that specializes in mortgages. The pending deal will also include a sister company Rushmore Loan Management Services LLC, a residential loan servicer and originator.
"This acquisition will provide us with an asset management platform to raise third-party capital on an ongoing basis from institutional investors who seek exposure to MSRs [mortgage servicing rights] and other mortgage assets," Bray said. "We expect closing to occur at midyear following regulatory approval and we plan to go to market in the second half."
Mr. Cooper is not disclosing the financial terms of the deal due to a non-disclosure agreement, Bray said, "but the cash outlay is not material."
Mr. Cooper's servicing portfolio approaching $1 trillion
At the end of December, Mr. Cooper was collecting payments on $870 billion in mortgage debt from 4.1 million homeowners, a business that generated pretax income of $98 million.
The company's owned mortgage servicing rights (owned MSR) portfolio grew by 21 percent in 2022, to $411 billion, while the subservicing portfolio — loans that the company collects payments on behalf of lenders who retain ownership of those servicing rights — grew by 24 percent to $459 billion.
Bray said Mr. Cooper sees "an unprecedented volume" of mortgage servicing rights coming to market.
During the pandemic-fueled refinancing boom, many lenders chose to keep the rights to collect payments on the loans they originated, Bray said, "for the obvious reason that they were awash in cash, and they could afford to retain the servicing rights."
But now, many lenders are coping with the worst margins in years, he said, and "for many operators liquidity is becoming a pressing need."
While lenders would often like to collect payments from borrowers themselves, so they can be in a better position to do business with them again, Bray said there's a "critical need for scale" to acquire the technology, operational skills and efficiency needed to make loan servicing profitable.
Mr. Cooper estimates that nearly $4 trillion in mortgage servicing rights will be up for sale over the next three years — nearly double the historical run rate.
"Keep in mind this surge in volume is taking place in the context of a concentrated market with a limited number of buyers, Bray said. "As a result, we expect pools will trade at very attractive yields. And in fact, we're already seeing some of the highest yields since the great recession."
Bray thinks Mr. Cooper "is in the best position of any buyer to capitalize on this opportunity. We have unmatched operational capacity to onboard large portfolios. We have industry leading recapture, strong relationships, ample capital and liquidity and a sizable scale advantage."
The potential income that can be generated by Mr. Cooper's servicing rights increases when mortgage rates rise, because fewer homeowners have the motivation to refinance. For every 1 percent improvement in the prepayment rate in Mr. Cooper's favor, the company has estimated that it will make an additional $15 million in pretax income each quarter or $60 million a year.
But with mortgage rates declining from 2022 peaks registered in October, Mr. Cooper was obliged to write down the value of its servicing rights during the fourth quarter to reflect the increased likelihood that some borrowers will be more likely to refinance.
But if Mr. Cooper just keeps growing its mortgage servicing rights portfolio at the same rate it did last year, it will be on track to surpass the $1 trillion mark at some point in 2023.
"We're now projecting more than $600 million in servicing EBT [earnings before taxes] this year, and I'd emphasize with the vast majority of mortgage customers well out of the money, this income stream will persist for years to come," Bray said.
Mortgage originations dwindle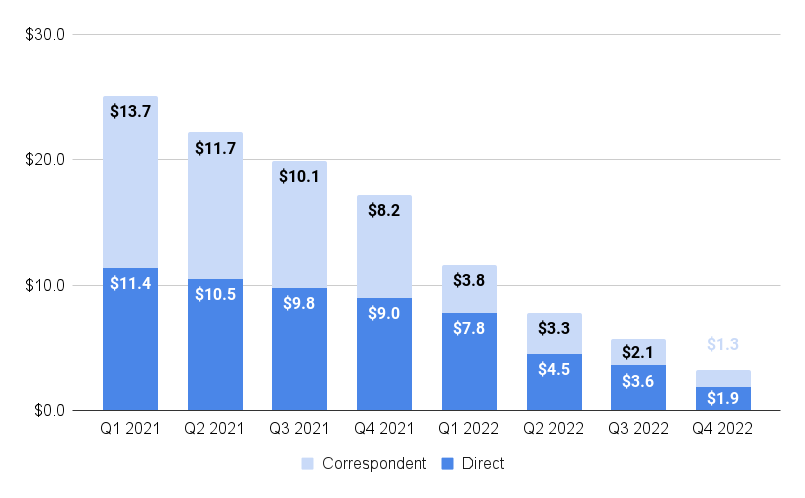 As has been the case for other lenders, Mr. Cooper's mortgage lending business has taken a hit as rising interest rates reduce demand for refinancing.
During the final three months of 2022, Mr. Cooper originated just $1.9 billion in loans through the direct channel, down 79 percent from the fourth quarter of 2021. Mr. Cooper acquired even fewer loans from correspondent lenders, with production from that channel falling 84 percent over the last year to $1.3 billion.
"Last October as mortgage rates were trending higher, we took additional action to realign capacity to a much smaller market, which included taking the difficult but necessary decision to eliminate over 1,000 positions," Mr. Cooper President Chris Marshall said. "Most of those were in originations.
"Thanks to this decision, we were roughly breakeven in the fourth quarter and are now on target to earn approximately $10 million in EBT [earnings before taxes] for the first quarter, which is consistent with the guidance we gave you last fall. We feel good about driving these numbers higher if mortgage rates settle in at meaningfully lower levels or if MBS pricing improves. As for now, it's a relatively small market."
Marshall said Mr. Cooper has launched a project to digitize its mortgage originations, Flash, which it used to process 70 percent of refinancing during the fourth quarter. That, along with other technology initiatives, will allow Mr. Cooper to "scale at an extremely rapid pace and produce terrific margins" when refinancing picks up again, he said.
Xome REO inventory climbs, but sales are flat
Mr. Cooper's Xome subsidiary operates an auction platform for foreclosed and real-estate-owned (REO) properties. While inventory on the platform has climbed 37 percent from a year ago, to 23,543 homes, that's yet to translate into sales.
While sales were up 39 percent from a year ago during the fourth quarter, 2022 Xome transactions peaked during the second quarter at 1,285. The fourth quarter turned out to be the slowest period of the year for Xome sales with 1,092 transactions handled.
Foreclosure moratoriums that protected homeowners during the COVID-19 pandemic kept lenders from foreclosing on borrowers. Delinquencies are ticking up and more homes are starting to enter the foreclosure pipeline, but foreclosure starts are still down 30 percent from pre-pandemic levels, according to the latest data from Black Knight.
"While the fourth quarter was slow, we're now seeing a measurable pickup in activity which leads us to project a substantial ramp in earnings in the second half," Marshall said. "To start with, we're seeing much stronger inflows from servicers as they're finally getting comfortable with state and federal rules and investor guidelines issued during the pandemic. This drove stronger net inflows in January. In fact, net inflows reached the highest level we've seen since before the pandemic — and I'd add that February's looking even stronger which bodes well for the pace of sales."
Marshall said Mr. Cooper is also seeing stronger bidding activity on Xome, higher web traffic and faster growth and new account registrations, "which together makes it feel like we're finally passing through an inflection point now that we've been through six straight months of home price declines."
Alluding to hints he dropped last year that Mr. Cooper is considering spinning off Xome, Marshall said "we continue to engage in discussions with prospective investors, which we think will move forward in a productive fashion as Xome's earnings potential becomes more visible."
Get Inman's Extra Credit Newsletter delivered right to your inbox. A weekly roundup of all the biggest news in the world of mortgages and closings delivered every Wednesday. Click here to subscribe.