5/5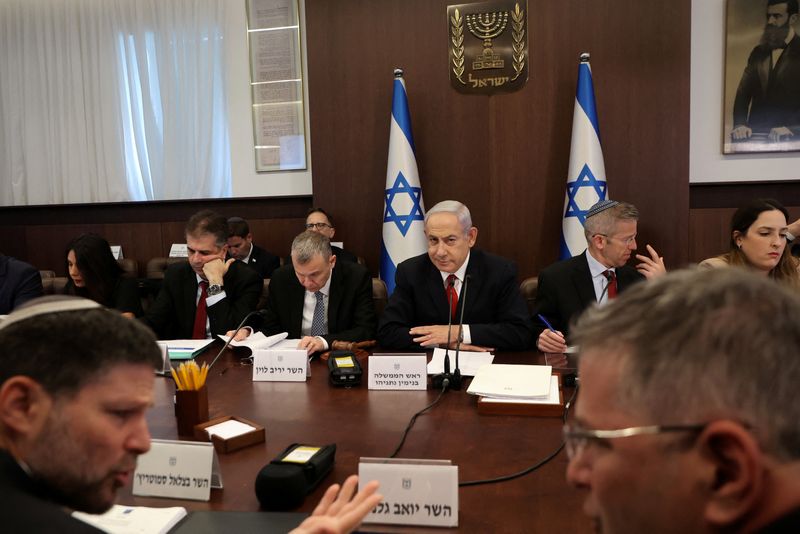 © Reuters. Israel's Prime Minister Benjamin Netanyahu attends the weekly cabinet meeting in his office in Jerusalem on July 9, 2023. GIL COHEN-MAGEN/Pool via REUTERS
By Steven Scheer
JERUSALEM (Reuters) -Israeli Prime Minister Benjamin Netanyahu signalled impatience on Sunday with resurgent demonstrations against his plan to overhaul the justice system, summoning his attorney-general for a cabinet grilling about police counter-measures.
On Monday, Netanyahu's religious-nationalist coalition is due to bring for its first ratification reading a bill that would limit "reasonableness" as a standard of judicial review – and which critics argue would open the door for abuses of power.
Critics say such reforms curb court independence. Netanyahu – who is on trial on graft charges he denies – says the aim is to restore balance among branches of government.
Compromise talks between the government and opposition stalled last month. Street protests that had subsided are flaring anew.
Protesters plan to converge on Israel's main airport as parliament debates the "reasonableness" bill. A major mall chain announced a one-day shutdown if Monday's vote passes.
In televised remarks before the cabinet session, Netanyahu said it was "unthinkable" that the government would abridge the right to demonstrate or support any violence against protesters.
But he argued such freedom should not be extended to "violations of the law that harm the basic rights of millions of citizens and are taking place on an almost daily basis," citing disruptions at Ben Gurion Airport, calls for disobedience within the military, main road closures and the heckling of elected officials.
He said Attorney-General Gali Baharav-Miara must "give an accounting" at Sunday's cabinet. As the meeting began, Israeli media carried leaked quotes of some ministers calling for her to quit.
Baharav-Miara, according to a person briefed on the session, said she hoped the government was not asking her to say a more aggressive crackdown was needed even if it was inconsistent with the judgement of police commanders on the ground and prosecutors.
"I hope the government does not expect the law-enforcement apparatus to maintain 'quotas' of arrests or indictments of protesters," she was quoted as saying.
Announcing the plan to shut all 24 of its malls on Tuesday, Big Shopping Centers called the "reasonableness" bill, if it passes its first reading, a "serious step on the way to clearly illegal governmental corruption, and another step on the way to dictatorship".
"Such legislation would be a fatal blow to Israel's business and economic certainty and would directly and immediately endanger our existence as a leading company in Israel," it added in an open letter.
Shares of Big fell 3.1%. Cabinet minister Itamar Ben-Gvir said he would boycott Big unless it retracted what he deemed its politicised "bullying".
The furore has dented the economy. TheMarker financial news site on Sunday estimated economic losses of some 150 billion shekels ($41 billion), citing weaker shares and the shekel, and higher inflation as a result of a more than 5% drop in the shekel versus the dollar that has helped fuel inflation and the cost of living.
($1 = 3.6951 shekels)