Nicole Aissa will oversee agent growth and development at Red Oak. She previously worked as an operating principal at Keller Williams.
What decisions and paths should the real estate industry be prioritizing? And how can you, whether managing a team or an entire company, bring those best lessons to bear where you work? In February, in advance of building an industry blueprint at Inman Disconnect, we'll plumb the topic of leadership with Q&As with top industry leaders, contributions from esteemed Inman columnists and more.
Red Oak Realty has appointed Nicole Aissa to serve as the company's first president, the independent California brokerage announced this week.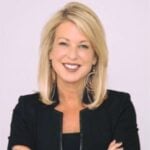 Aissa's job in the new role is to "lead agent growth, development and training," Red Oak said in a statement, describing Aissa as an industry veteran with more than two decades of experience.
Aissa served as an operating principal at Keller Williams up until December 2022, according to her LinkedIn page, and held that position for just over a year. Before that, she was a senior executive team leader and associate broker at Keller Williams.
She also spent just under a year-and-a-half as a regional executive at Pacific Union and left the company in 2018 about the time Compass acquired the brokerage.
Speaking of Aissa's background, in her past roles she was "consistently recognized for her successes, her ability to increase market share and reach sales, retention, and recruiting milestones with every firm she works with," Red Oak's statement notes.
Aissa said in the statement that she is honored to "serve as the leader of Red Oak Realty and manage the team of over 160 dedicated agents offering the finest real estate services in the Bay Area."
"I look forward to the work we will accomplish together," she added.
Vanessa Bergmark, Red Oak's CEO and owner, was also upbeat in the statement, calling Aissa "an exceptional leader with a proven track record of success and deep roots in the Bay Area and agent community."
"She brings a wealth of real estate experience," Bergmark added, "that further strengthens our team, and her expertise will be invaluable."