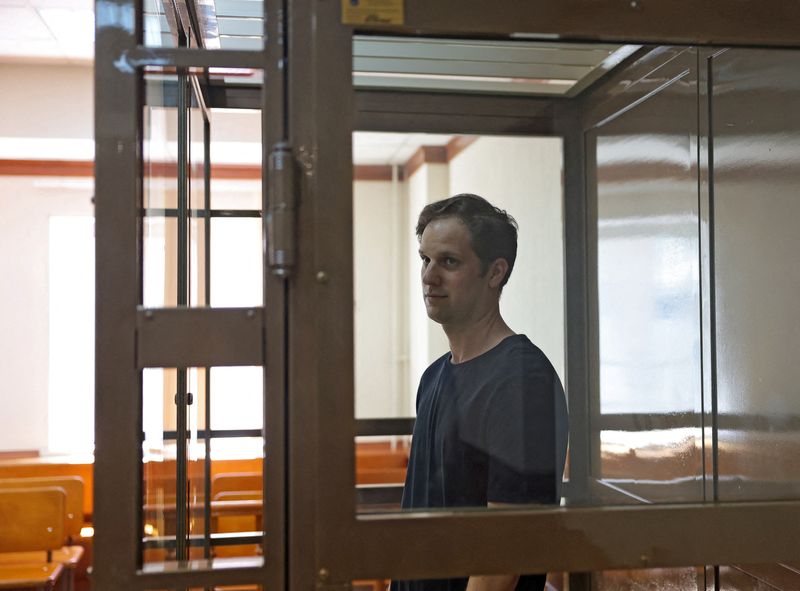 © Reuters. FILE PHOTO: Wall Street Journal reporter Evan Gershkovich, who was arrested in March while on a reporting trip and accused of espionage, stands behind a glass wall of an enclosure for defendants before a court hearing to consider an appeal against his det
MOSCOW (Reuters) – Russia said on Tuesday that there were "certain contacts" with the United States over the case of detained Wall Street Journal reporter Evan Gershkovich, but that it did not want to make them public.
The Kremlin made the remark a day after U.S. ambassador Lynne Tracy was allowed to visit Gershkovich in a Moscow prison for only the second time. Hours later, the Russian embassy in the United States said its staff had visited Vladimir Dunaev, a Russian national who is in pre-trial detention in Ohio on cybercrime charges.
Kremlin spokesman Dmitry Peskov was asked at his daily briefing if the timing of the two visits indicated that a negotiating process was under way.
"We said that there are certain contacts on this matter, but we do not want to make them public, they must be carried out and continued in complete silence. As for the legal right to consular contacts, this right, of course, must be ensured on both sides," Peskov said.
Russia accuses Gershkovich of espionage, something he denies.
Russia has agreed in the past to high-profile prisoner exchanges with the United States, most recently last year when American basketball star Brittney Griner, sentenced in Russia on a drug charge, was exchanged for Viktor Bout, a Russian arms trafficker convicted in the United States.
Russia has said there could be no exchange involving Gershkovich until a verdict is reached in his case. No date has so far been announced for his trial.
Washington has said it is committed to bringing home Gershkovich and Paul Whelan, a former U.S. marine who is serving a 16-year sentence in Russia for espionage. He too has denied the accusations, and Washington has designated both men as "wrongfully detained".
(This story has been corrected to say Russian embassy in the United States, not in Moscow, in paragraph 2)