Shiba Inu lead developer Shytoshi Kusama recently published a new blog post about the latest developments in the SHIB ecosystem. However, while the focus of Kusama's blog post was on Shibacals, there was a more hidden news: Shibarium's partnership with AI meme token project Bad Idea.AI.
The project's official Twitter account also drew attention to the news, confirming that the partnership is now official. An image within the blog post showed an overview of all official partners and tokens that belong to the Shibarium ecosystem. Among them is Bad Idea.AI.
It's official @badideaai & #Shibarium partnership pic.twitter.com/pUQMT2FkdA

— Bad Idea Ai (@badideaai) June 21, 2023
Kusama has already spoken out in the AI meme token project's Telegram group, expressing his delight that artificial intelligence (AI) will help decentralize Shibarium. He wrote:
Thanks to this BAD community that has given us great insight about AI for our upcoming projects. Alongside our other partners like Unification, (and some projects I believe will bring massive value to Shibarium) we now have a powerful toolset, and plan that includes AI, for decentralization. I can't thank you enough. #hailshib that's one thing that was never a bad idea.
Remarkably, Bad Idea.AI's tool already caused a stir within the SHIB community in the past few days, but at that time it was not yet clear that it would become an official partner of Shiba Inu. On Saturday, June 17, the Bad Idea AI bot posted a reply in the Shiba Inu Telegram group to influencer @LucieSHIB's question about why people attack the SHIB army.
Honest answer 😤😞😂
Bad Idea x #SHIBARMY pic.twitter.com/p8GukUSxcn

— 𝐋𝐔𝐂𝐈𝐄 (@LucieSHIB) June 17, 2023
Shiba Inu Goes AI: BAD Tokenomics
A few hours ago, Lucie used Twitter to spread the word about the AI meme token, which she says has only 908 holders. "I was 773 and had no idea it was going to be introduced as a friendshib," Lucie wrote, but she also stated: "It's not financial advice! We bought this as a joke and love it and look forward to seeing how we implement it in the future. If you join the ride REMEMBER to have fun and Ask Bad Idea.AI questions!!!"
According to the official white paper of the new Shiba Inu partner, the project was developed to answer the million dollar question of how humanity and AI technology can live in harmony in the future. "Will AI be our savior or our downfall?" is the core question of the project.
To answer this question, the team has launched BAD IDEA, an "experiment" that combines AI, blockchain and DAOs in "a risky, meme-worthy concoction", "think of it as humanity's Hail Mary pass, a last-ditch effort to secure our future in a world where artificial intelligence threatens to call the shots."
The BAD token is currently only available on Uniswap V2 and has a total supply of 831 trillion BAD tokens. 59% are currently public, the rest is being held back for development, marketing and a "Humanity's Last Hope Fund". Also, there is a team allocation of 4.2%.
At press time, BAD was ranked #2772 on CoinMarketcap and had a market cap of around $10 million. In the last 24 hours, its trading volume was $1.4 million, up 702%. With a price of $0.00000001134, BAD has seen an increase of 81% in the last 24 hours.
The Shiba Inu price is currently facing key resistance at $0.00000837, where the 23.6% Fibonacci retracement level resides. As outlined in the last price analysis, the first scenario has come true. Now, SHIB needs to break above the 23.6% Fibonacci level and break out of the downtrend channel.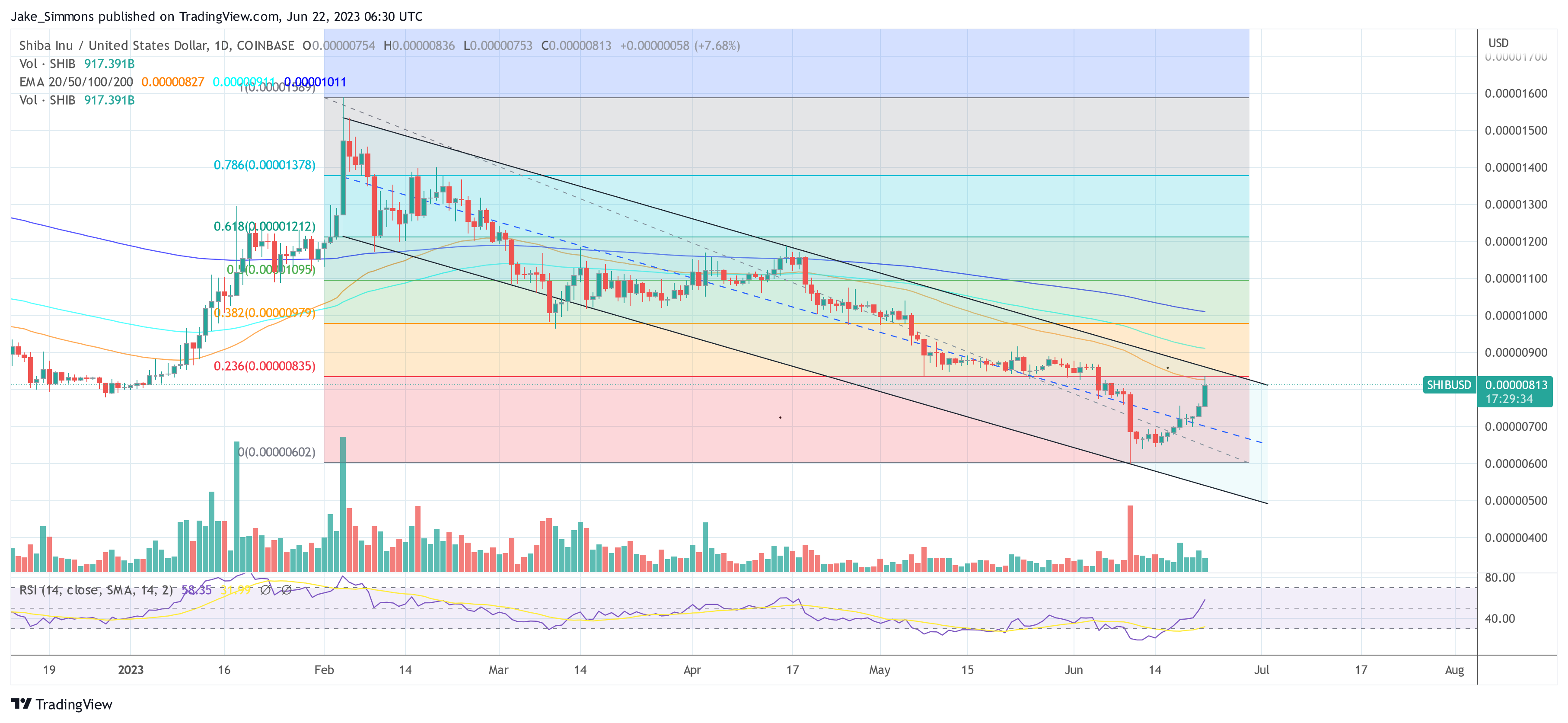 Featured image from Neural Love, chart from TradingView.com