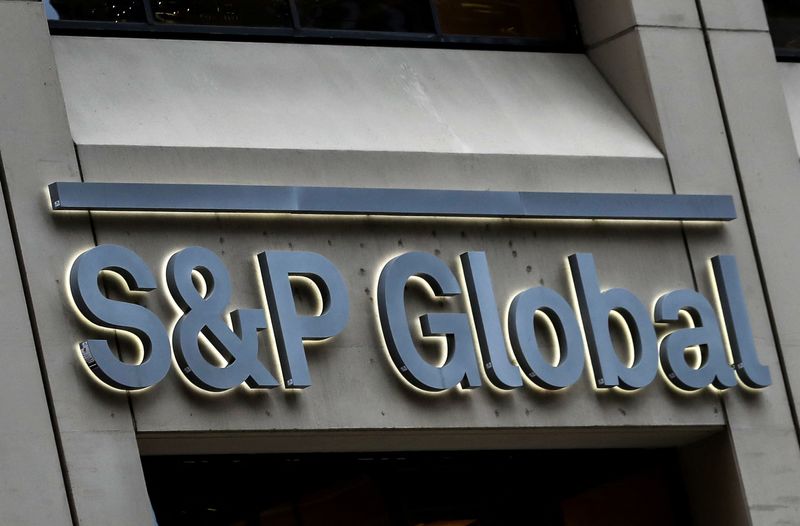 © Reuters. FILE PHOTO: The S&P Global logo is displayed on its offices in the financial district in New York City, U.S., December 13, 2018/File Photo
(Reuters) – (This July 27 story has been corrected to remove reference to 'demand for data on valuations, benchmarks & energy markets prices wilting away' in paragraph 4, & reference to Market Intelligence unit's revenue share in paragraph 6)
S&P Global (NYSE:) Inc missed profit estimates for the second quarter on Thursday, as weakness in rating agency's Commodity Insights and Indices units offset gains from its market intelligence business.
Shares of the company fell more than 6% in premarket trading on Thursday.
On an adjusted basis, its profit of $3.12 per share missed analysts' average estimate of $3.14 per share, as per Refinitiv IBES data.
Growth in revenues from the company's Commodity Insights and Indices segments could not meet Street expectations.
However, credit rating agencies have seen strong market for analytics solutions as historically high borrowing cost spurred demand for their products to assess the risk of corporate defaults.
S&P's Market Intelligence segment posted a 5% rise in sales, taking the firm's total revenue up 4% to $3.1 billion in the quarter through June.
S&P Global, which provides essential market intelligence to governments, corporates and institutional investors, completed the divestiture of its Engineering Solutions unit to global investment firm KKR Inc in May.