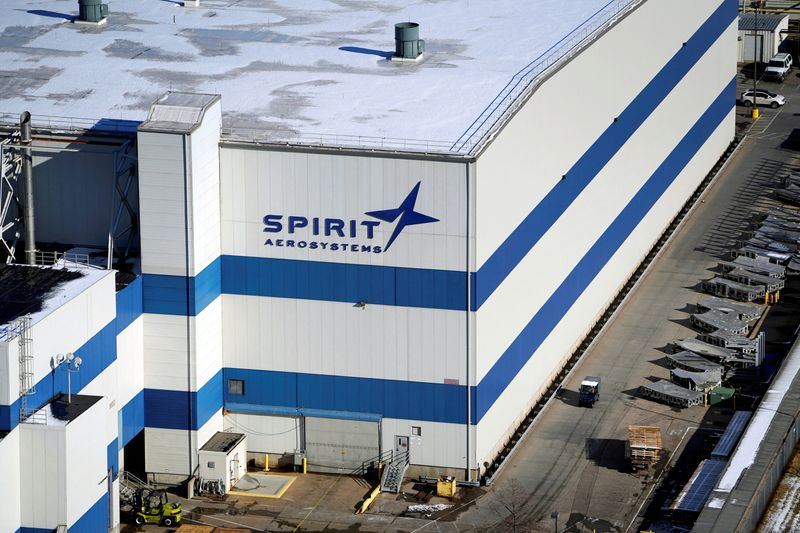 © Reuters. FILE PHOTO: The headquarters of Spirit AeroSystems Holdings Inc, is seen in Wichita, Kansas, U.S. December 17, 2019. REUTERS/Nick Oxford/File Photo
By Valerie Insinna and Abinaya V
PARIS (Reuters) -Spirit AeroSystems on Thursday will suspend factory production at its plant in Wichita, Kansas, the company said, after workers rejected a proposed four-year deal and announced a strike to begin on June 24.
Spirit is one of the most consequential suppliers for aerospace heavyweights Boeing (NYSE:) and Airbus, with the Wichita site making the entire fuselage of Boeing's best-selling 737 MAX narrowbody jet and the forward section of most of its other aircraft, as well as pylons for the Airbus A220.
A prolonged work stoppage at Spirit could have ripple effects for the aircraft makers it supplies, eventually forcing them to slow or stop jetliner assembly at a time when both Airbus and Boeing are ramping up production.
Shares of Spirit tumbled about 9% in premarket trading, while those of Boeing fell 1.3%. Paris-listed shares of Airbus shed 1.4% in regular trade.
"It's not a welcome development," said Richard Aboulafia, an aerospace analyst with AeroDynamic Advisories.
"I think the general feeling is that (Spirit) had it under control with what appeared to be an reasonable agreement," he said. But after more than a decade of cost pressure on the aerospace industry, "labor feels like they have some power."
Spirit will suspend factory production prior to the expiration of its contract with the International Association of Machinists and Aerospace Workers (IAM) on June 24 but will continue to pay employees, it said.
"We are disappointed that our employees represented by the IAM rejected our four-year contract offer and voted to strike," Spirit said. "Despite this setback, we are not distracted from the task at hand. We look forward to continued meetings with IAM leadership."
Although IAM and Spirit reached a tentative contract agreement last week, workers voted to reject the deal and strike.
"The IAM's dedicated and hardworking membership at Spirit AeroSystems (NYSE:) has worked without fail during tumultuous times, including a pandemic that saw everything grind to a halt. Most of our members have concluded that the company's offer is unacceptable," IAM said in a statement.
The union said it would regroup and begin planning "the following steps to bring the company back to the table."
Boeing said it continued to monitor the situation and support Spirit.
Airbus, while not commenting on the work stoppage itself, said it conducted regular assessments with suppliers to mitigate potential risks to production.
In May, Boeing CEO Dave Calhoun said it would be difficult to make contingency plans for a strike at Spirit.
"Even if they tried to get ahead of it by virtue of their current production, that will be measured in weeks not in months, so we're supporting them in every way possible to get to a constructive answer," he said.
Last month, Spirit said it expected to take a $31 million hit to its full-year gross profit from disruptions related to 737 MAX fuselages and took a $110 million loss in reach-forward charges on Airbus and Boeing jet production in the first-quarter.