Published Jun 25, 2023 08:01PM ET Updated Jun 26, 2023 07:02AM ET
5/5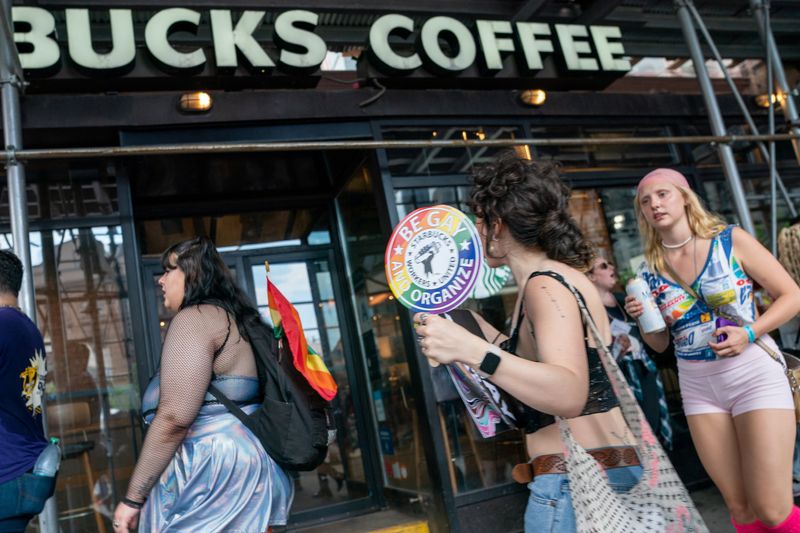 © Reuters. Starbucks workers attend a protest as part of a collective action over a Pride decor dispute, outside a Starbucks shop in Manhattan in New York City, New York, U.S., June 25, 2023. REUTERS/David Dee Delgado
By Hilary Russ and Caroline Valetkevitch
(Reuters) -Workers at dozens of U.S. Starbucks (NASDAQ:) locations held strikes on Sunday to express their outrage over accusations by the baristas' union that managers at several U.S. cafes removed rainbow flags and decorations supporting LGBTQ+ Pride month.
About a dozen Starbucks workers picketed outside New York's Astor Place location in lower Manhattan on Sunday afternoon near the route of the city's Pride parade, chanting: "New York is a union town! On strike! Shut it down!"
Union members handed out flyers and talked to passersby about the action, while several customers chose not to enter in support of the strike.
With Pride marches underway in New York City, San Francisco, Chicago and Starbucks' hometown Seattle, some baristas and other workers at the coffee chain said they were angered by the dispute.
A spokesperson said on Sunday that "we unwaveringly support the LGBTQIA2+ community. It would be inaccurate to report that Starbucks stores are banning any decorations as there has been no change to company policy on this matter." 
"We remain deeply concerned by false information being spread about our inclusive store environments, our company culture and the benefits we offer our partners," the spokesperson said.
Though the conflict is gaining attention now, it began brewing a year ago, when the Workers United union said the company threatened union organizers – many of whom say they are queer or trans – with reduced hours that would leave them unable to qualify for health insurance, which covers gender reassignment surgery and other affirming procedures.
Starbucks has denied that it changed the coverage, calling the accusations "false claims" in a June 14 letter to Workers United International President Lynne Fox and seen by Reuters.
The company's health insurance has covered gender confirmation surgery since 2012. In 2018, it also began covering treatment that other plans consider "cosmetic," including breast augmentation, hair transplants and facial feminization.
The coffee chain also denied that it had banned Pride decorations, calling the allegation "blatant fear mongering" by the union, according to the letter.
Starbucks spent decades building its reputation as a progressive company that supports LGBTQ+ workers and customers. In 1988, it began offering hard-to-find perks such as health insurance for same-sex domestic partners. Later, it entered the legal fray at the U.S. Supreme Court in support of marriage equality.
"Once we decided to unionize, they were like, we've had enough of this progressive stuff," said Jackie Zhou, 21, a shift supervisor at a New York City Starbucks at Astor Place, where workers held a strike on Sunday.
Maggie McKeon, who was headed into the Starbucks at Astor Place, turned around after learning about the strike.
"If people are going to be affected by this, then I'm with them," not the company, McKeon said.
Since late 2022, Starbucks has been in bargaining talks with some of the more than 300 unionized company-owned U.S. locations.
Pro-union baristas have asked Starbucks for stronger protections from discrimination, among other proposals.
So far, none of the newly unionized U.S. cafes has struck a deal with the company for a labor contract.
CHANGE OF TUNE
In 2020, then-Starbucks employee Arthur Pratt drew a version of the chain's siren logo with flowing rainbow hair to celebrate Pride. The company shared the image nationwide and even posted it on Instagram, Pratt told the Seattle Gay News.
But in November, Pratt, a trans man, was fired in what the union says was retaliation for supporting the organizing drive at his Portland, Oregon location.
This year, he made a new poster ahead of Pride month that called out the company, reading, "You can't say you're pro-queer and be anti-union!"
Still, the Human Rights Campaign, which rates corporations on how equitable their polices and benefits are for LGBTQ+ employees, gave Starbucks a perfect score for 2022, along with more than 800 other companies.
HRC did not return requests for comment.
But as union organizing heated up last year, more employees said their schedules became erratic and their time was often cut below the 20 hours per week they needed to qualify for health insurance.
The union's allegation is one of hundreds of complaints it has filed with the National Labor Relations Board.
Sam Cornetta, a barista at the Farmingville, New York, Starbucks, who joined coworkers on strike at Astor Place on Sunday, said the company was alienating LGBTQ+ workers.
"They've used their claim to be a progressive, inclusive company to kind of attract those kinds of people," Cornetta, 23, said. "There's a performative aspect."