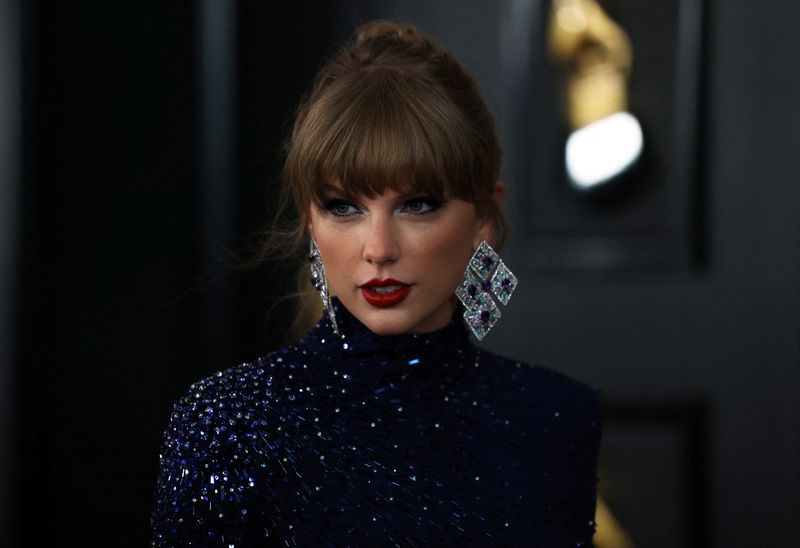 © Reuters. FILE PHOTO: Swift attends the 65th Annual Grammy Awards in Los Angeles, California, U.S., February 5, 2023. REUTERS/David Swanson/File Photo
By Matt McKnight
(Reuters) – Hundreds of thousands of Taylor Swift fans descended on Seattle on Saturday ahead of the pop star's "The Eras Tour", her latest stop in tourism-boosting concerts across the United States.
Throngs of fans lined up to purchase T-shirts and other merchandise outside Lumen Field, where the mega-star will perform on Saturday and Sunday.
Fresh off a flight from Salt Lake City, Utah, Ragnhild Read waited to purchase Swift memorabilia.
"For Taylor, I would go across the world to see her," she told Reuters.
The avid fan previously saw Swift's performance in Salt Lake City in 2013 when she traveled there from her home in Seattle. This time, she is doing the journey in reverse.
Swift's concerts have helped boost hotel and restaurant revenue in cities across the world. Visit Seattle, the city's tourist organization, hopes the same will happen this weekend.
"We're really looking for a very successful weekend as far as hotel occupancy goes. We have a number of properties that have already sold out, so that's a very good sign," said Visit Seattle Senior Vice President of Community Engagement and Public Affairs Michael Woody.
King County Council declared the week leading up to the concert as "Taylor Swift Week" in her honor.
A gigantic friendship bracelet hangs above the entrance of the famed Space Needle, a nod to the trend for fans to exchange the woven jewelry during the tour, which started as a reference to her song "You're on Your Own, Kid" from her latest album "Midnights".
Woody said he expects 144,000 Swift fans to descend on the city over the two days of concerts.
Some Swift fans arrived from Canada, where Prime Minister Justin Trudeau asked the American pop star weeks ago on Twitter to add some Canadian stops to her tour.
"I love Taylor Swift and she's not coming to Canada yet," said Katherine Archibald who is visiting Seattle from Calgary, Alberta for the concert. "Because flights were so expensive I had to fly all the way down to LA and then back to Seattle, that was the cheapest flight route available."
In addition to the two sold out concerts, Seattle is also hosting multiple sporting events, the Bite of Seattle food festival, and the Capitol Hill Block Party music festival this weekend.