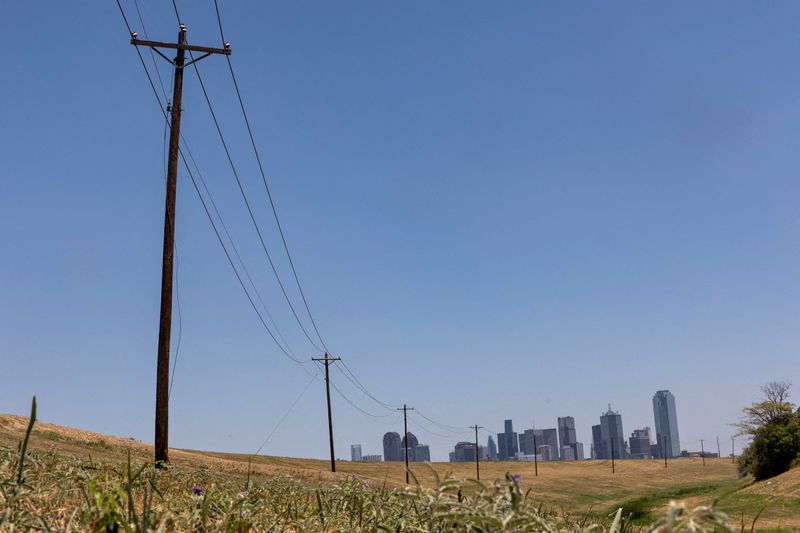 © Reuters. FILE PHOTO: Utility poles lead to downtown Dallas during a heat advisory due to scorching weather in Dallas, Texas, U.S. July 12, 2022. REUTERS/Shelby Tauber/File Photo
(Reuters) – Demand for power in Texas missed a forecast record on Tuesday, but the state's grid operator projected electric use would break records on Wednesday and Thursday as homes and business crank up their air conditioners during a lingering heatwave.
The Electric Reliability Council of Texas (ERCOT), which operates the grid for more than 26 million customers representing about 90% of the state's power load, has said it has enough resources available to meet soaring demand.
Texas residents have worried about extreme weather since a deadly storm in February 2021 left millions without power, water and heat for days as ERCOT scrambled to prevent a grid collapse after the closure of an unusually large amount of generation.
After setting 11 peak demand records last summer, ERCOT forecast usage would hit 83,399 megawatts (MW) on Wednesday and 84,333 MW on Thursday. That would break the all-time high of 80,828 MW on June 27.
One megawatt can power around 1,000 U.S. homes on a typical day, but only about 200 homes on a hot summer day in Texas.
With the weather a little cooler than forecast on Tuesday, power demand missed ERCOT's 82,362-MW forecast high, topping out at just 78,804 MW.
That was just the latest example of ERCOT projecting and missing record demand forecasts. Since June 14, the grid has projected demand would hit record highs on at least 13 days, but usage only broke 2022's all-time high once this year.
Meteorologists at AccuWeather forecast high temperatures in Houston, the biggest city in Texas, would hit 100 degrees Fahrenheit (37.8 Celsius) almost every day from July 12-19. That compares with a normal high of 94 F for this time of year.
    Despite the heat, next-day prices at the ERCOT North Hub, which includes Dallas, remained low, hitting just $39 per megawatt hour for Wednesday. That compares with an average of $33 so far this year, $78 in 2022 and a five-year (2018-2022) average of $66.