3/3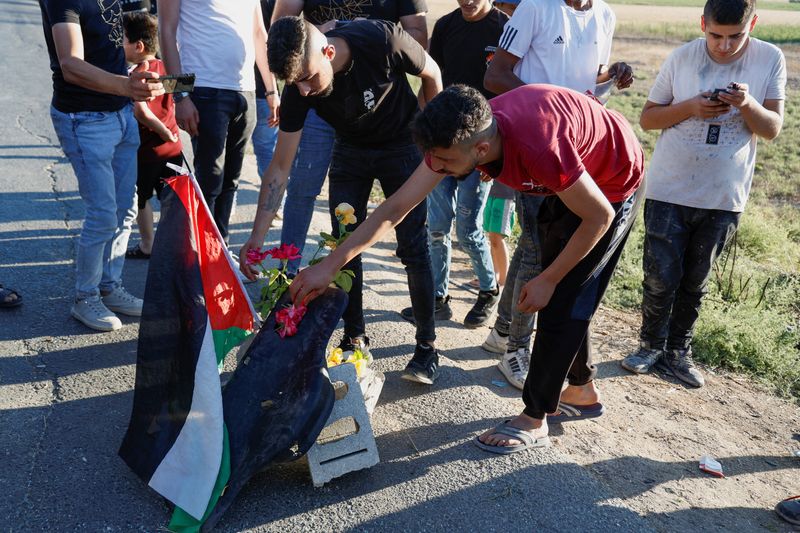 © Reuters. Palestinians gather at the scene where Israeli forces targeted a Palestinian car, near Jenin, in the Israeli-occupied West Bank August 6, 2023. REUTERS/Raneen Sawafta
JERUSALEM (Reuters) -Israeli security forces shot dead three Palestinian militants in the occupied West Bank on Sunday, Israeli police said, drawing threats of revenge by Palestinian militant factions.
Violence has worsened in the West Bank since last year with more Israeli raids and Palestinian street attacks on Israelis.
The Israeli police said in a statement that special forces had thwarted a group from the Jenin refugee camp on their way to carry out an attack.
"The enemy, which assassinated three of our Palestinian people, will not escape paying the price of its crimes," said Hazem Qassem, a spokesperson for the militant group Hamas.
The Palestinian Islamic Jihad, which has militants in Gaza and the West Bank, also vowed revenge.
"The enemy will realise that its foolishness and terrorism will be met by a strong response from the resistance," its spokesperson Tareq Selmaa said in a statement.
The Israeli police said the head of a militant group involved in military action against Israeli security forces and supporting "terrorists" in Gaza had died along with two other squad members.
Prime Minister Benjamin Netanyahu praised the security forces. "We will continue to take action – everywhere and at any moment – against those who seek to attack us," he said.
Separately, Washington has condemned as terrorism the killing of a Palestinian by suspected Jewish settlers, in sharpened language that appeared to reflect U.S. frustration with the recent surge in violence under Israel's hard-right government.