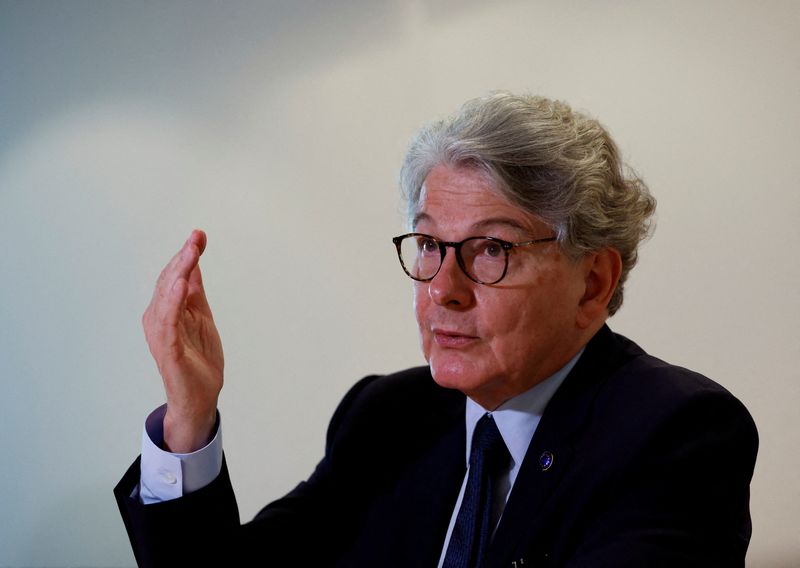 © Reuters. FILE PHOTO: EU Commissioner for Internal Market Thierry Breton speaks during an interview with Reuters in Tokyo, Japan July 3, 2023. REUTERS/Issei Kato/File Photo
By Foo Yun Chee
BRUSSELS (Reuters) -Seven companies including Amazon (NASDAQ:), Apple (NASDAQ:), Google (NASDAQ:), Facebook-owner Meta and Microsoft (NASDAQ:) say they meet the EU's new criteria of "gatekeeper" that means they have to meet tougher rules, EU industry chief Thierry Breton said on Tuesday.
Samsung (KS:) and TikTok owner ByteDance also unexpectedly said they would meet the criteria, although TikTok disputed whether it should be included on the list. Booking (NASDAQ:).com said it expected to fall into the gatekeeper category next year.
Under the European Union's Digital Markets Act (DMA) which came into force in November, companies with more than 45 million monthly active users and a 75-billion-euro ($82 billion) market capitalisation are considered gatekeepers providing a core platform service.
Companies labelled as such will be required to make their messaging apps interoperate with rivals and let users to decide which apps to pre-install on their devices.
They will not be allowed to favour their own services over rivals' or prevent users from removing pre-installed software or apps – two rules that will hit Google and Apple hard.
"Europe is completely reorganising its digital space to both better protect EU citizens and enhance innovation for EU startups and companies," Breton said in a statement.
Companies can be fined up to 10% of annual global turnover for DMA violations.
The European Commission did not provide details of the companies' core online services subject to DMA rules.
It will confirm the gatekeeper designation by Sept. 6 after checking the data provided by the companies, which will then have six months to comply with the DMA rules.
According to TikTok, while it meets the DMA's quantitative criteria, it falls short of the overall requirements set out under the rule which require a gatekeeper to have an "unavoidable platform to conducting online business in the EU" and be an "entrenched" gateway between consumers and businesses.
Booking.com said it expected to meet the gatekeeper threshold by the end of the year and will then notify the EU executive. It fell short of the quantitative threshold ahead of Monday's notification to the Commission due to the pandemic.
($1 = 0.9173 euros)