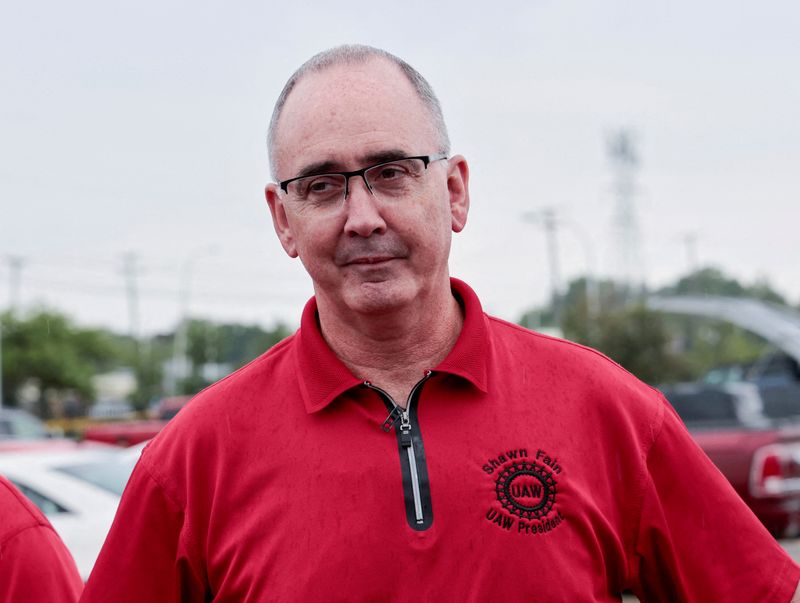 © Reuters. FILE PHOTO: United Auto Workers President Shawn Fain looks on as he greets workers (not pictured) at the Ford Motor Michigan Assembly Plant to mark the beginning of contract negotiations in Wayne, Michigan, U.S. July 12, 2023. REUTERS/Rebecca Cook/File
(Reuters) -United Auto Workers members are planning to vote next week to authorize possible strikes at the Detroit Three automakers ahead of a Sept. 14 deadline, the union said on Tuesday.
The UAW's warning comes as the union and General Motors (NYSE:), Ford Motor (NYSE:) and Stellantis have made little headway with their negotiations, according to UAW President Shawn Fain, who will host a public meeting on Facebook (NASDAQ:) at 6 p.m. ET (2200 GMT) on Tuesday.
"Whether or not there's a strike next month is entirely up to the Big Three automakers," Fain said in a statement. "Our priorities are clear, the companies can afford them, and there's plenty of time for the Big Three to get serious about these negotiations."
The UAW said the talks with all three companies have yet to progress beyond non-economic issues.
The three automakers have said they want to reach a deal that is fair to the workers but also gives the companies flexibility at a time when the industry is shifting from gasoline-powered vehicles to electric ones.
U.S. President Joe Biden on Monday called on the automakers and the UAW to reach "a fair agreement" before the contracts expire. The union represents 150,000 workers at the three companies.
The announcement comes as labor unions are taking advantage of low unemployment to push for higher pay and better working conditions during talks for new labor agreements.
The UAW has repeatedly pointed out how the three automakers have reported a combined $250 billion in profits from 2013 to 2022 and argued the hourly workers deserve to benefit as well.
The union is seeking raises of 40% over a four-year contract, cost-of-living adjustments, elimination of a tiered wage system, and including workers at joint-venture battery plants in its contracts.
Several analysts on Wall Street have said the chances for a strike are greater than 50%. Deutsche Bank (ETR:) previously estimated that a strike would hit earnings at each affected automaker by about $400 million to $500 million per week of production.
The UAW said Tuesday that it recently raised strike pay to $500 per week per member and has over $825 million in its strike fund.