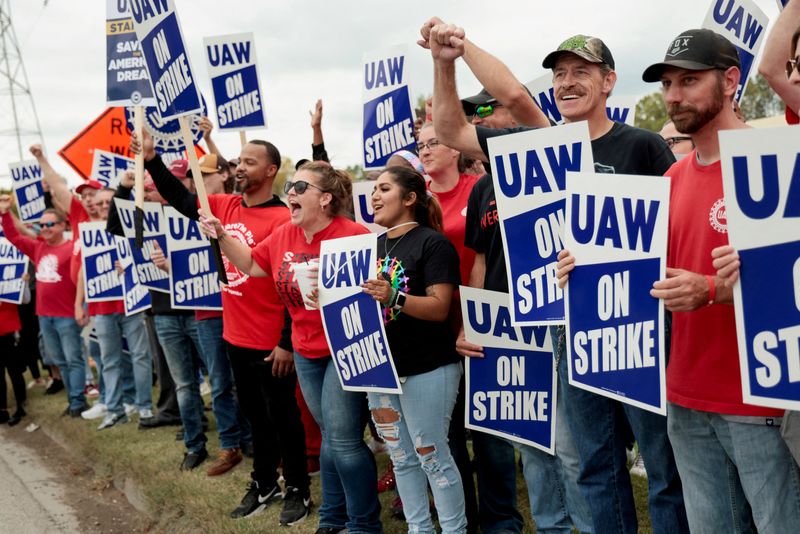 © Reuters. FILE PHOTO: Striking United Auto Workers (UAW) members from the General Motors Lansing Delta Plant picket in Delta Township, Michigan U.S. September 29, 2023. REUTERS/Rebecca Cook/File Photo
(Reuters) -The United Auto Workers (UAW) union and General Dynamics (NYSE:) have reached a tentative agreement over a new labor contract covering hundreds of workers at some of the U.S. defense contractor's facilities, the company said on Monday.
Earlier this month, 1,100 UAW members in Michigan, Ohio and Pennsylvania plants had voted to authorize a strike after a four-year agreement was set to expire on Oct. 22, 11.59 pm ET.
The company, one of the largest U.S. defense contractors, manufactures makes weapons systems, munitions, combat vehicles such as Abrams tanks – which are being used by Ukraine to repel Russian forces – and submarines. Its biggest customer is the U.S. government.
Like its peers, General Dynamics has struggled with supply and labor shortages at a time when weapons demand is on the rise due to the war in Ukraine, conflict in the Middle East and tensions in U.S.-China relations over Taiwan.
UAW members at the company make military vehicles including tanks and light armored vehicles, according to the union.
UAW did not immediately respond to a request for comment.
Details of the proposed agreement were not immediately available.
The UAW is engaged in a separate strike action at the Detroit Three automakers – General Motors Co (NYSE:), Ford Motor (NYSE:) and Stellantis (NYSE:) – since the middle of last month in a fight for a better contract.
A tight U.S. labor market, the expiry of multiple union contracts and high living costs have led to tough negotiations for pay hikes and benefits, triggering strikes and protests across industries.
General Dynamics has said it expects to negotiate the terms of 28 agreements with unions and works councils, covering about 12,600 employees this year. The company has a global workforce of 106,500 employees as of February.