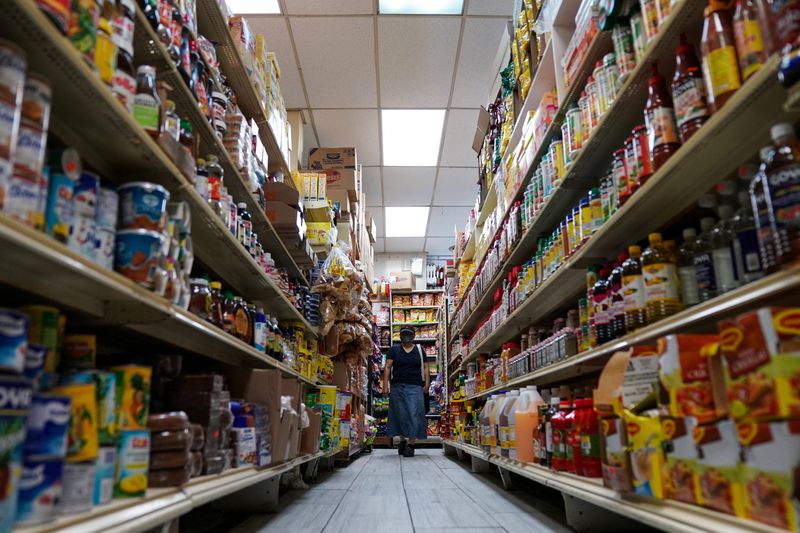 © Reuters. FILE PHOTO: A woman shops for groceries at El Progreso Market in the Mount Pleasant neighborhood of Washington, D.C., U.S., August 19, 2022. REUTERS/Sarah Silbiger
WASHINGTON (Reuters) – U.S. consumer prices rose modestly in June and registered their smallest annual increase in more than two years as inflation continued to subside, but probably not fast enough to discourage the Federal Reserve from resuming raising interest rates later this month.
The CPI gained 0.2% last month after edging up 0.1% in May, the Labor Department said on Wednesday. The CPI was lifted by rises in gasoline prices as well as rents, which offset a decrease in the price of used motor vehicles.
In the 12 months through June, the CPI advanced 3.0%. That was the smallest year-on-year increase since March 2021 and followed a 4.0% rise in May.
Economists polled by Reuters had forecast the CPI rising 0.3% last month and climbing 3.1% year-on-year.
Annual consumer prices have retreated sharply from their 9.1% peak in June 2022, which was the biggest increase since November 1981 as last year's large rises drop out of the calculation. Nevertheless, inflation remains well above the Fed's 2% target, with the labor market still tight.
Though employment gains were the smallest in 2-1/2 years in June, the unemployment rate fell close to historically low levels and wage growth was strong. Financial markets have priced in a 25 basis points interest rate increase at the Fed's July 25-26 policy meeting, according to CME's FedWatch tool.
The U.S. central bank skipped raising rates in June. The Fed has hiked its policy rate by 500 basis points since March 2022, when it embarked on its fastest monetary policy tightening campaign in more than 40 years.
The improving inflation environment was underscored by a moderation in the pace of increase in underlying prices.
Excluding the volatile food and energy categories, the CPI increased 0.2% in June. It was the first time in six months that the so-called core CPI did not post monthly gains of at least 0.4%. In the 12 months through June, the core CPI rose 4.8% after increasing 5.3% in May.
Core inflation is expected to continue receding in the months ahead. The labor market is cooling and independent measures show rents on a downward trend. Rent measures in the CPI tend to lag the independent gauges by several months.
The Institute for Supply Management's measure of prices paid by services businesses for inputs dropped in June to the lowest level since March 2020. Economists view the ISM services prices paid measure as a good predictor of personal consumption expenditures (PCE) inflation.
They see a correlation between this price gauge and the core PCE services excluding housing. This so-called super core is being closely watched by Fed officials to gauge progress in the fight against inflation.