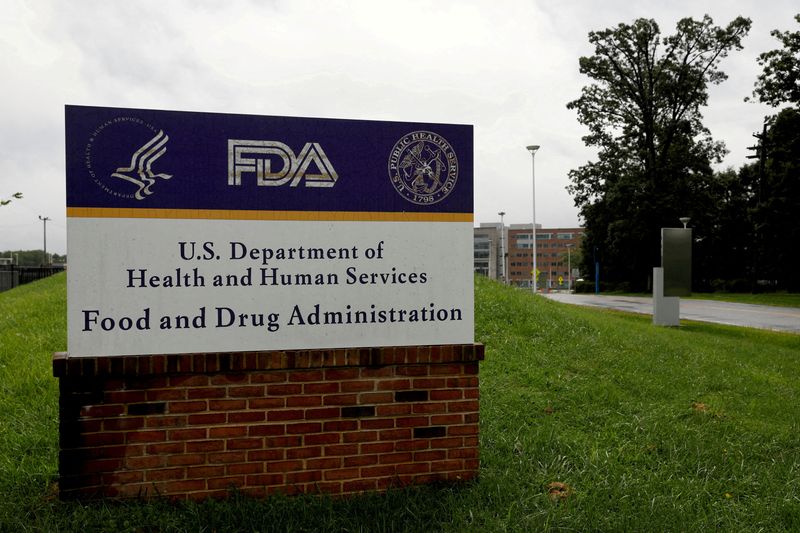 © Reuters. FILE PHOTO: Signage is seen outside of the Food and Drug Administration (FDA) headquarters in White Oak, Maryland, U.S., August 29, 2020. REUTERS/Andrew Kelly/File Photo
By Sriparna Roy
(Reuters) -A panel of advisers to the U.S. Food and Drug Administration (FDA) on Tuesday recommended the use of a device made by a unit of Otsuka Holdings in a type of surgery to treat high blood pressure.
The FDA panel backed the use of the device made by the Japanese company's unit ReCor for renal denervation, which is indicated for use in patients whose hypertension, or high blood pressure, cannot be controlled with drugs.
All 12 panel members voted unanimously in favor of the safety of the device. Eight voted in favor of the device's effectiveness, while three voted against it. One abstained.
Panel members recommended that the device can be used as a possible add on therapy to reduce blood pressure and not as a replacement to medications.
The surgery, which is allowed in Europe and other parts of the world, is not approved in the United States, after initial studies of older devices used in the procedure failed key studies.
Newer devices including those from ReCor and rival Medtronic (NYSE:) have successfully helped to reduce blood pressure through the renal denervation surgery, in large studies.
An expert panel will convene on Wednesday to discuss rival Medtronic's device.
ReCor's device, which is a balloon-like structure inside a catheter, is inserted through a small cut into the kidney's arteries and sends ultrasound energy to burn nerves that are believed to control blood pressure.
The company said on Tuesday it plans to initiate a registry for post-market studies, if the device is approved, to evaluate the long-term data of the surgical device.