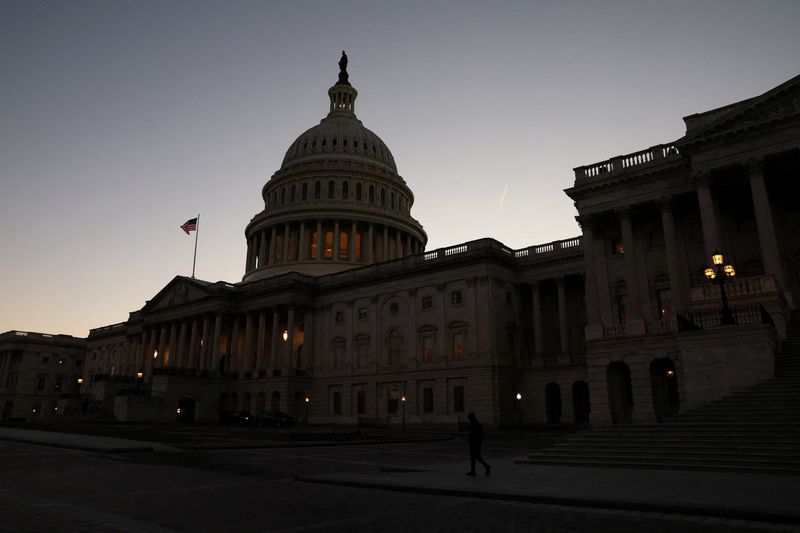 © Reuters. FILE PHOTO: A person walks past the U.S. Capitol building at sunset as the Republican-controlled House of Representatives reconvenes on Capitol Hill in Washington, U.S., January 9, 2023. REUTERS/Leah Millis/File Photo
By David Brunnstrom
WASHINGTON (Reuters) -A bipartisan group of U.S. senators has proposed legislation to support establishment of national security councils in strategic Pacific island states that are home to key U.S. military installations and at risk of espionage and coercion by China.
The provisions are contained in the sweeping National Defense Authorization Act, which was passed by the Senate last month but is still several steps from becoming law, and would allow for greater coordination between the U.S. security establishment and Palau, the Marshall Islands and Micronesia.
The sparsely populated nations, whose territories cover vast areas of the Pacific, have relations with the United States governed by so-called Compacts of Free Association.
Under these, Washington retains responsibility for their defense and provides economic assistance while gaining exclusive access to strategic swathes of ocean.
The U.S. recently agreed renewed COFA deals with Micronesia and Palau and is still negotiating with the Marshall Islands at a time when China is making significant inroads into the Pacific, a region the U.S. has long considered its back yard.
Republican Senator Joni Ernst, a co-sponsor of the proposed legislation, which is expanded on in a separate soon-to-be submitted 'CONVENE Act', highlighted the challenge posed by China, noting Beijing's stepped up tieswith the Solomon Islands and incursions by Chinese vessels into Palau's waters.
"Currently, there is limited coordination between the U.S. and the COFA nations to counter Chinese malign influence, curb Chinese purchases of land around U.S. installations on the islands, or prevent China's infiltration and monitoring of U.S. activity throughout the island nations," she said in a statement shared with Reuters.
"The strategic location of these islands is integral to our national security, but the lack of direct security channels between our nations creates risk," she added.
The NDAA provision is co-sponsored by Democrats Mazie Hirono, Tim Kaine and Chris Van Hollen.
An Ernst aide said Palau had already established a national security council and the other COFA states were actively considering doing so.
He noted that the U.S. has significant military installations on the islands, including high-powered radar on Palau and its main long-range missile testing site in the Marshall Islands.
The councils would comprise members of respective COFA states and make use of Pentagon-approved communications equipment to prevent Chinese espionage and allow sharing of intelligence, he said.
As well as countering Chinese espionage, the councils would enable better coordination in areas such as maritime security and in countering illegal fishing, he said.
"This bill does not mandate the COFA islands to anything, but what it does do is to say that if you do choose to build these councils … there's going to U.S. support for such cooperation to include intelligence sharing and other types of cooperation," the aide said.