Economy 21 minutes ago (Nov 03, 2022 06:16PM ET)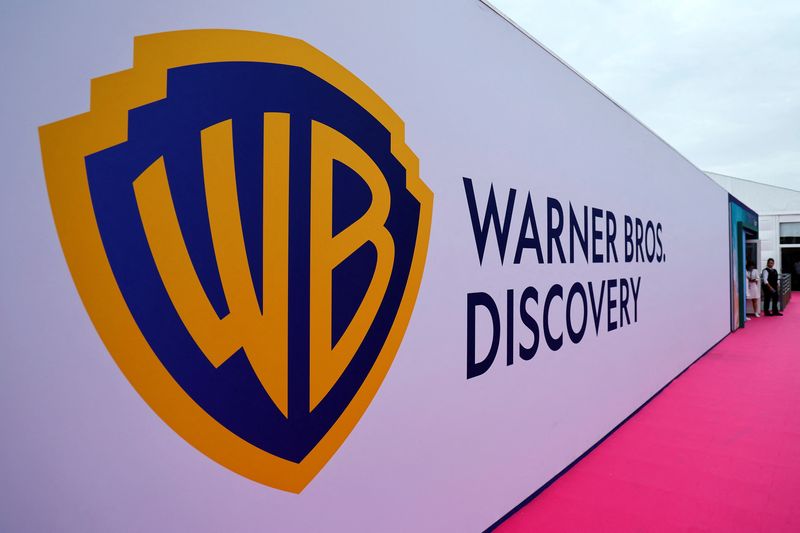 © Reuters. FILE PHOTO: The Warner Bros logo is seen during the Cannes Lions International Festival of Creativity in Cannes, France, June 22, 2022. REUTERS/Eric Gaillard
By Dawn Chmielewski and Chavi Mehta
(Reuters) -Warner Bros Discovery (NASDAQ:) posted a quarterly loss on Thursday, reflecting the ongoing restructuring of the combined media company, even as the debut of HBO's fantasy series "House of the Dragon" marked the most-watched series premiere in the network's history.
It posted a loss of $2.3 billion, or 95 cents a share, in the third quarter, a figure that includes $1.5 billion in pre-tax restructuring charges. That's more than the 21 cents a share loss that analysts had anticipated, according to Refinitiv data.
Quarterly revenue fell to $9.8 billion, also behind Wall Street targets, hurt by cuts in advertising budgets at businesses struggling to cope with decades-high inflation. Shares fell more than 5% after hours.
Recession-wary brands have taken the axe to their marketing budgets as consumer spending on discretionary products and services dip.
The wider rout in the ad market has led companies including Google-parent Alphabet (NASDAQ:) and Warner Bros peers Paramount Global and Comcast Corp (NASDAQ:) to warn about continuing weakness in the advertising landscape.
Warner Bros Discovery, home to hit franchises such as "Batman" and "Euphoria," added 2.8 million new streaming subscribers in the third quarter, bringing its total to 94.9 million. It aims to reach about 130 million global subscribers by 2025.
Analysts also called out the success of "House of the Dragon" as proving the franchise potential of "Game of Thrones."
"In light of their underwhelming Q3 results, the success of "The House of the Dragon" should be a source of relief," said Max Willens, senior analyst at eMarketer.
"The extent to which Warner Brothers-Discovery can create second- and third-generation hits off beloved source material, the way that Disney has done with shows such as 'The Mandalorian' or 'Andor,' will have a huge influence on their ability to keep consumers flocking to their streaming services."
Company executives also explained that the success was not coming cheaply, describing spending on content this year as the highest ever.
The company's studio segment reported revenues of $3.1 billion, down 5% from a year earlier. The company had fewer movie releases than a year ago. Its networks segment, which includes TBS, Discovery Channel and Food Network, reported revenue of $5.2 billion, down 8% compared with a year ago.
Revenue was $9.82 billion for the third quarter ended Sept. 30. Analysts on average expected revenue of $10.37 billion, according to Refinitiv data.
The company said adjusted earnings before interest, tax, depreciation, and amortization (EBITDA) were down 8% to $2.42 billion in the third quarter.
Related Articles