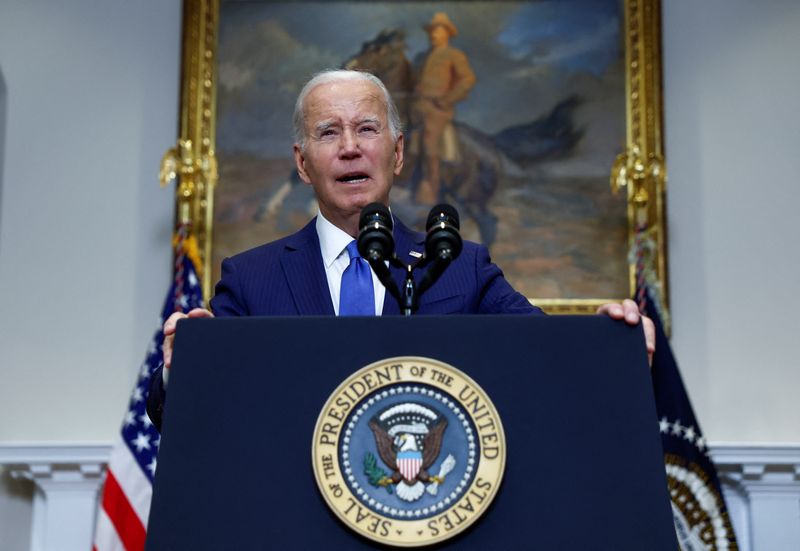 © Reuters. U.S. President Joe Biden delivers remarks on artificial intelligence in the Roosevelt Room at the White House in Washington, U.S., July 21, 2023. REUTERS/Evelyn Hockstein
By Kanishka Singh
WASHINGTON (Reuters) – U.S. President Joe Biden would veto Republican-backed defense, health and agriculture spending bills if he were presented with them, the White House said on Monday, alleging House of Representatives Speaker Kevin McCarthy was backing away from spending levels agreed to in a debt-limit deal.
McCarthy and House Republicans were pushing cuts the Biden administration could not accept, the White House said in a statement on Monday.
"The Administration strongly opposes House passage of H.R. 4366, making appropriations for military construction, the Department of Veterans Affairs, and related agencies for the fiscal year (FY) ending September 30, 2024 and for other purposes," the White House said.
"If the President were presented with H.R. 4366, he would veto it."
On a separate agriculture and health spending bill which Biden also threatens to veto, the White House said the legislation included provisions that would have "devastating consequences" like cutting access to reproductive healthcare, cutting climate change initiatives and curtailing the safety of the LGBT community.
Last month, the Democratic president signed a bipartisan deal after excruciating negotiations with McCarthy that narrowly averted a crisis that threatened to send the United States into an unprecedented default and economic crisis.
This year's bipartisan debt ceiling deal keeps fiscal 2024 spending flat at this year's levels, allowing a 1% increase for fiscal 2025. The nonpartisan Congressional Budget Office estimates that the deal will cut deficits by about $1.5 trillion over a decade from its current-law baseline forecast.
The deal was approved by 149 House Republicans – a strong party majority – along with 165 Democrats. Forty-six Democrats, mostly progressives, spoke out against the deal, saying it enforced stringent work requirements on poor families who receive food assistance or monetary aid and others who face obstacles to employment.
(This story has been refiled to fix a typographical error in paragraph 1)